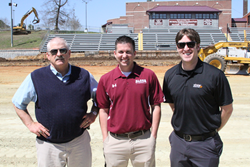 Adding our new Shaw Sports Turf field will provide our student athletes with performance advantages, as well as representing what a strong community atmosphere we have surrounding the school.
Alcoa, Tennessee (PRWEB) April 08, 2014
While most high school football programs are looking for one elusive state championship, Alcoa High School in Tennessee will be looking to add 13 more state titles after installing a new Shaw Sports Turf field this spring.
Construction is underway at the school, which lies in the shadow of Knoxville's McGhee Tyson Airport. The project also includes several renovations to the existing stadium complex.
"This is something the kids deserve," said Josh Stephens, Athletic Director at the school. "We have a great program here at Alcoa, with a great community behind us, and our facilities should reflect that. Adding our new Shaw Sports Turf field will provide our student athletes with performance advantages, as well as representing what a strong community atmosphere we have surrounding the school."
Alcoa has earned 13 state championship titles in its history. Coach Gary Rankin has been at the helm for the past eight seasons and has won six titles, including a 2013 victory over Christ Presbyterian Academy in the championship game.
The team won seven titles from 2004-2010 and during that period had a 43-game winning streak. Alcoa does all this with a total enrollment of about 500 students, but nearly 40% of the male student population is on the football team.
The school is just down the road from another traditional powerhouse and Alcoa's greatest rival, Maryville. The two play each other each year and the rivalry is considered one of the nations' most hotly contested at the high school level. It's even been broadcast on ESPN.
"Football is an important part of this community," said Rankin. "Our biggest challenge is being landlocked and not having room for additional field facilities. Adding the Shaw Sports Turf field will give our kids a place to practice, regardless of weather. It's also key because the surface looks and plays the same all the time and provides us with landmarks we needs in practice. It gives us a field that is fast, firm, and safe."
Alcoa is installing Shaw Sports Turf's Legion system, which is a combination of high-performance monofilament fibers and a durable slit film fiber. The slit film fiber is a workhorse which will handle the workload, while the monofilament provides a more resilient surface that enhances performance characteristics. The Legion system is also used on the game and practice fields at Vanderbilt University.
"Championship programs surround themselves with the best," said Shaw Sports Turf's Jimmy Marshall. "Alcoa will now be able to practice and play on a world-class field that will make their community even more proud of all the state championships to come."
Those titles will not come without challenge, though. Teams go out of their way to avoid playing Alcoa; some teams even opted to play in a higher classification rather than face the Tornadoes. Every year, scheduling games is a challenge, but the team finds a way to get 10 regular season games. This season will stand out, though.
Alcoa will open the season on their new Shaw Sports Turf field on Thursday, August 21st, against Smith County. On Saturday, August 23rd, the team will travel to Morristown East to play for the second time in three days. The next Friday, August 29th, the team will travel to play longstanding rival, Maryville, giving Alcoa three games in eight days.
About Shaw Sports Turf
A wholly-owned subsidiary of Berkshire Hathaway Inc., Shaw Industries is a full flooring provider to the residential and commercial markets. Shaw supplies carpet, hardwood, laminate, resilient, and tile/ stone flooring products, as well as synthetic turf. Shaw Sports Turf is one of the leading synthetic turf companies in North America and has represented quality and innovation for more than two decades with over 1,500 successful installations, including an impressive list of high-profile field installations. For more information please visit http://www.shawsportsturf.com, call 866-703-4004 or find us on Facebook.