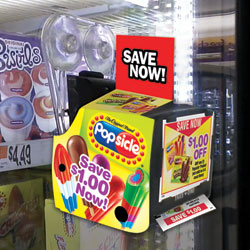 Norwalk, CT (PRWEB) April 09, 2014
The majority of purchase decisions are made in the store and in-store marketing's historic focus has been to "stop, hold, and close." In-store vehicles are viewed as most effective overall by shoppers and shopper marketers.* Coupons can generate an immediate boost in sales while establishing brand awareness.
The Popsicle® team at Unilever selected TFI Envision, Inc. to develop the graphics for a new eye-catching in-aisle coupon machine. Winter is traditionally a slow time for frozen snack sales, so offering a coupon at the point of sale reminds consumers of this fun snack and dessert option while saving the consumer money. The machine itself interrupts the visual space in the frozen foods aisle, drawing attention with a colorful graphics and enticing price offering.
Since 1975, TFI Envision, Inc. of Norwalk, CT, has specialized in developing strategic design and marketing solutions for branding, packaging, promotion, digital and corporate communications; helping organizations achieve their marketing and communication goals with compelling, consistent messaging that is on brand and on target.