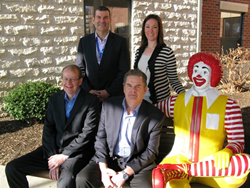 As a company, it's really such a small thing for us to do, yet it will have a lasting positive impact long after we've left Columbus.
Columbus, OHIO (PRWEB) April 10, 2014
Ronald McDonald House Charities of Central Ohio was surprised last week when an impending need was fulfilled without ever having to ask. The charity now has three brand new flat-screen TVs to add to the expanding house in Columbus, thanks to the help of a visiting company who wanted to give a little back to the local community.
Club Assist, the mobile battery service support arm to roadside assistance clubs throughout North America, held its annual Battery Service Conference in Columbus, bringing nearly 200 visitors to the area from across the U.S. and Canada, and as far away as Australia. The 4-day event required the use of three 32-inch HDTV sets for audio-visual support. "Rather than renting them, we decided to buy the TVs locally, and donate them to the Columbus Ronald McDonald House after we no longer needed them," said John Tutt, Club Assist's Executive Vice President of North America.
Ronald McDonald House Charities offers a home-away-from-home for the families of hospitalized children. When conference organizers contacted Ronald McDonald House Charities of Central Ohio [RMHC], they were unaware that the Columbus location is currently under expansion, adding three new common areas which will all need televisions. "I couldn't believe how perfect the donation was for our expansion needs. We have three new family rooms, and the folks at Club Assist had three TVs to donate," said Megan Koester, Senior Development Director, RMHC, "The timing of this gift was spot on."
The three televisions were delivered to the Ronald McDonald House at 711 East Livingston Avenue, where the new construction is expected to be completed later this spring. Located across the street from Nationwide Children's Hospital, RMHC offers a home-like environment for over 3,000 families every year. "It makes us so happy to give back to the communities that host our corporate events," said Stuart Davies, CEO and Managing Director of Club Assist, "As a company, it's really such a small thing for us to do, yet it will have a lasting positive impact long after we've left Columbus. It's the best way we know how to say thank you."