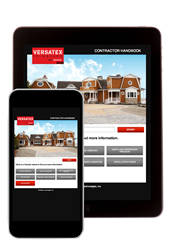 According to VERSATEX Vice President of Sales Rick Kapres, 'Once you download the app, it goes anywhere you go, and it runs faster, too, Users can find it by searching for VERSATEX Contractors Handbook on either Apple's App Store or Google Play.'
Pittsburgh, PA (PRWEB) April 09, 2014
Welcomed by builders when it first appeared in 2012, the Contractor Handbook app satisfied demand for mobile access to VERSATEX PVC product installation tips, best practices, catalog information and dealer locations. And, like the time-tested paper Handbook on which it was based, it answered practical questions while offering detailed instructions, practices and recommendations.
According to VERSATEX Vice President of Sales Rick Kapres, "This time, we evolved the Handbook from a web-based app to a native app – one that you can download to your Android or iOS phone or tablet — so now you can it carry in the field without worrying about web access.
"Once you download the app, it goes anywhere you go, and it runs faster, too," he said. Users can find it by searching for "VERSATEX Contractors Handbook" on either Apple's App Store or Google Play. He added that the updated version covers VERSATEX product installations.
Mr. Kapres said that VERSATEX will continue to offer the pocket-sized paper Handbook, as well as the original web-based Handbook app and a supporting 10-part instructional video series. Builders can find the Handbook app and installation videos on at versatex.com, and also view the videos on YouTube by searching for "VERSATEX."
"In residential construction, knowledge is power, and we're going to keep empowering our customers in every way we can," he said. "We want to keep the expertise you need at your fingertips anywhere, any time."
VERSATEX Trimboard exterior trim materials and systems are manufactured by Wolfpac Technologies of Pittsburgh, Pa., where state-of-the-art facilities produce cellular PVC extrusion products such as VERSATEX trimboards, sheet, bead board, moldings and prefabricated corners; the innovative VERSATEX soffit system; and the new, dimensionally compatible VERSATEX Max nominal 2-by boards. Details are posted at http://www.versatex.com.