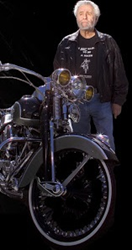 If you don't fight for your rights, nobody is going to go out to do it for you.
Los Angeles, California (PRWEB) April 10, 2014
Motorcyclists get a bad rap; many face discrimination and suffer debilitating injuries when they have an accident. As a result of this disparity, Richard M. Lester founded Aid to Injured Motorcyclists (AIM) and the National Coalition of Motorcyclists (NCOM) programs in order to help motorcycle riders.
"An attorney friend in law school told me that if I wanted to do some good, I should reach out to a group of people who were being discriminated against, and do something to change it." said attorney Lester, motorcycle rider himself. "I started giving legal advice to individuals in motorcycle clubs and I discovered this was a group that could use my help."
Lester quickly worked to create resources for a community that was misunderstood, discriminated against and needed to be represented. Today, individuals can sign up on the Aid to Injured Motorcyclists website or at motorcycle events, to receive a free AIM card, an ID card that emergency services can use to call the 24 hour hotline and receive important medical information such as blood type, current medications taken by the rider and next-of-kin. AIM has distributed over three million AIM membership cards to riders, and is comprised of 110 affiliated offices, all staffed by lawyers known as the AIM Team.
The AIM Team is a national group of lawyers who specialize in motorcycle accident cases and ride motorcycles themselves. You can find these lawyers riding their motorcycles throughout North America. The AIM Team spends their time attending various motorcycle events promoting motorcycle safety across the nation. They donate a substantial portion of their legal fees from motorcycle accident cases and motorcycle expertise back into the motorcycle community. These funds in part helped many local biker communities create Confederation of Club groups within their areas to help fight discrimination and harassment, however, that was not enough for motorcycle advocate Lester, who felt that representation on a national scale was needed.
Richard M. Lester saw the need for a united voice in the motorcycle community. Almost 30 years ago, on January 27, 1986 leaders of various motorcycle groups from across America met in Las Vegas to discuss a "coming together" and the overwhelming need for a national voice to protect the motorcyclists' lifestyle and their right to ride. As a result the National Coalition of Motorcyclists (NCOM) was founded to offer legislative support motorcycle clubs and organizations. NCOM is the only national organization of its kind, and is financially supported solely by the AIM Team. NCOM does not solicit funds from member groups or individuals, and will never require membership fees; the AIM Team is the sole financial sponsor of the National Coalition of Motorcyclists. NCOM has grown to over 2,000 member organizations representing hundreds of thousands of bikers throughout the country. "If you don't fight for your rights, nobody is going to go out to do it for you" says attorney Lester.
For more Information on AIM, NCOM and how to join please visit http://www.ONABIKE.com
AIM & NCOM Facebook page: http://www.facebook.com/AIMNCOM
For all other inquiries, please send an email to aim (at)onabike(dot)com.
About AIM & NCOM
AIM is a free program created by Richard Lester in 1982 to help downed motorcyclists protect and assert their rights as riders. All motorcyclists are encouraged to sign up for the AIM card, a membership ID card that gives crucial medical and contact information in the event of an accident. AIM offers free legal consultation available 24/7 at 1-800-ON-A-BIKE or at http://www.onabike.com.
NCOM serves as legislative support to motorcyclists on a national level, and does not interfere with any state organizations, internal politics, or operations. It is committed to creating laws that protect motorcyclists from discrimination, improve biker's rights and help promote the freedom of the road for all riders. All motorcycle groups are invited to join the National Coalition of Motorcyclists, regardless of what they ride, the patch they wear, their race, gender, or style of riding.