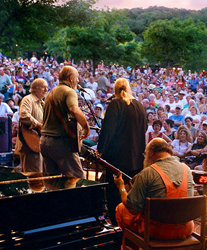 A complete festival schedule, information and tickets can be found at www.kerrvillefolkfestival.org or by calling the festival office at (830) 257-3600
Kerrville, Texas (PRWEB) April 09, 2014
The Kerrville Folk Festival 2014 opens on May 22 with a stellar rockin' lineup. First up at 7PM to begin this 18 day songwriters event is Steve Poltz one of the most entertaining individualistic artists to hit the scene in many years. He is followed by Parker Millsap from the Okemah, Oklahoma area (think Woody Guthrie and Grammy nominated John Fullbright). It has been wondered what DO they have in the water there with several amazing young Oklahoma writers making big waves in the industry really quickly. Ray Benson, from Asleep at the Wheel, has a new solo CD release and has been touring with the Austin-based band, MilkDrive. They have played Kerrville Festivals several times with their own material and will be featured in a short set before Ray comes out to share his songs with MilkDrive as his band. Closing the opening evening is Dale Watson and his Lone Stars. They will have the dancers in full swing that's for sure.
Located at Quiet Valley Ranch, nine miles south of the Texas Hill Country resort community of Kerrville, the 43rd annual Kerrville Folk Festival will run for 18 straight days, from Thursday, May 22 through Sunday, June 8, 2014. Season Ticket Packages and discounted day tickets are on sale now at http://www.kerrville-music.com/tickets.htm.
Festival Producer Dalis Allen is putting together another schedule of great songwriters from around the globe.
The line - up for the first weekend May 22 – 25 features RAY BENSON (of Asleep at the Wheel fame) & MILKDRIVE, STEVE POLTZ, DALE WATSON, JUDY COLLINS, MOORS & MCCUMBER, JOHN FLYNN, TERRI HENDRIX, IAN MOORE, STEVE SESKIN & ALLEN SHAMBLIN, MARY GAUTHIER and VANCE GILBERT.
On Monday May 26 there will be a STEVEN FROMHOLZ LIFE CELEBRATION with multitudes of guest artists singing Steve's songs and telling his stories. It will be a great night of music and a special gathering to remember one of the best songwriters to grace our planet.
The second weekend May 30 – June 1 includes DANA COOPER, TROUT FISHING IN AMERICA, PETER YARROW of Peter Paul and Mary, SHAKE RUSSELL & MICHAEL HEARNE, JAMES HILL, BRENNAN LEIGH & NOEL MCKAY, RAY CHESNA, RAGGED UNION, SARAH SAMPLE & EDIE CAREY and BREWER & SHIPLEY.
And the third and final weekend June 6 – 8 STEVE FORBERT, JEFF BLACK, HARPETH RISING, JIMMY LAFAVE, ELIZA GILKYSON, BILLY JONAS, ALBERT & GAGE, ZOE LEWIS, DAVID AMRAM & THE AMIGOS, BOBBY BRIDGER and LARRY JOE TAYLOR.
The 2014 Grassy Hill Kerrville New Folk Competition for emerging songwriters will be held on the first Saturday and Sunday of the festival (May 24th and 25th), from 1 to 4PM.
Songwriters School runs May 26 - 29; the Blues Guitar Workshop May 27 - 29; Harmonica and Ukulele Workshops June 2 - 4. The faculty and sessions information is on the website at http://kerrville-music.com/workshops.htm.
Held each year since 1972, the Kerrville Folk Festival is the longest continuously running festival of its kind in North America. Over the years it has become known internationally as a Mecca for singer songwriters of varying musical styles… a place where those just beginning to develop their skills have the opportunity to play their music alongside those who are masters. Emerging songwriters as well as teachers are drawn to the festival's many learning opportunities, such as the 34th Annual Songwriters School, the Roots / Blues Guitar Workshop, Harmonica Workshop, Ukulele Workshop, Capo Workshops, a Music Law Panel Discussion, and the 13th Annual Professional Development Program for Teachers.
There's truly something for everyone at this festival, from camping, campfire jam sessions, concerts and activities for kids, "Ballad Tree" song sharing sessions, Hill Country bike rides and canoe trips on the Guadalupe to Sunday Folk Song Services, Saturday Shabbat Services and much more. This is one musical celebration that must not be missed! A complete festival schedule, information and tickets can be found at http://www.kerrvillefolkfestival.org or by calling the festival office at (830) 257-3600. Ticket prices range from $25 to $40 depending on the particular day, although you can save by purchasing your tickets early online. Campground Access and Parking Lot fees are included in the ticket price.
The Kerrville Folk Festival is owned by the Kerrville Folk Festival Foundation, a 501(c)3 non-profit organization that is dedicated to the support of emerging songwriters and folk music in all its forms.