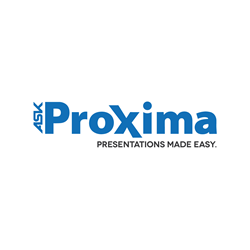 Torrance, CA (PRWEB) April 09, 2014
ASK Proxima, manufacturer of high-performance LCD and DLP® projection displays, has announced the availability of the C3327W-A projector. Part of the C3000 Series, the C3327W-A is a standout in this new line of feature-rich, lightweight projectors. The C3327W-A is a user-friendly projector that delivers high quality audio and stunningly clear picture in a compact form factor.
High brightness comes in a small package with the C3327W-A. Weighing 6.7 pounds, the C3327W-A projector has a high-efficiency cooling system, powerful built-in speakers, and password-protected anti-theft features, making it a sturdy projector in a convenient and easily transportable size. With 3200 lumens of brightness. 4000:1 contrast ratio, and up to 6,000 hours of lamp life, the C3327W-A offers sharp image quality and a variety of connectivity options, making it ideal as an on-the-go companion for video presentations.
"The C3327W-A, along with the rest of the C3000 line of projectors, is an elegant projection product," said Sam Malik, vice president and general manager of ASK Proxima. "Despite its size, the C3327W-A is packed with features not normally found in projectors its size. It's an excellent solution for pretty much all projection needs."
Because of its rich feature set, the ASK Proxima C3327W-A is an ideal portable projector solution with its high-quality picture output and size and weight. The C3327W-A is the perfect addition to any presentation or outing. The C3327W-A is not just a portable projector; it also comes with built-in RS232 network control and monitoring capability, as well as edge-blending technology for seamless integration with multiple projectors. ASK Proxima's new C3000 Series of projectors provides amazing image quality in a convenient size. Create a visual solution with the C3000 family of projectors from ASK Proxima.
About ASK Proxima
ASK Proxima is a legacy brand in digital video technology. The company manufactures a full line of high-performance LCD and DLP® projection displays. ASK Promixa's wide range of products include short- and ultra-short throw, business and large venue projection models for business, education and installation applications. Make an impact with powerful impressions and effective solutions. For more information, visit http://www.askproximausa.com.