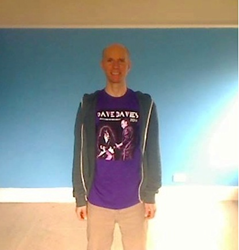 Garment Printing did a really good job. They are efficient and on the ball. I'm very pleased with the way the shirts turned out. I will use them again and would recommend their services to anybody
London, UK (PRWEB UK) 10 April 2014
Garment Printing is proud to add Dave Davies of The Kinks to its celebrity clientele. The music legend has contracted the t-shirt printing and embroidery company to create concert shirts for his highly anticipated comeback show in London.
Having grown up to the music of The Kinks and Dave Davies' solo efforts, Garment Printing's director Gavin Drake is honoured to work with a music legend and to be attending as a guest at the event at the Barbican, London.
"We feel privileged to have been chosen to provide screen-printed band t-shirts for Dave Davies' big comeback concert in the UK. We've already printed for the famous band Suede and many other music acts and are pleased that he's so happy with our work," commented Drake.
Davies said: "Garment Printing did a really good job. They are efficient and on the ball. I'm very pleased with the way the shirts turned out. I will use them again and would recommend their services to anybody."
Davies co-founded The Kinks in 1963 with his friend, Pete Quaife; later joined by his brother, Ray Davies and Mick Avory. Davies was the lead guitarist and vocalist until the band split up in 1996 after over 30 years of success. Davies strongly influenced later musicians, mainly in the heavy metal and punk rock genres, through his signature distorted power cord sound that can be heard on The Kink's first hit, 'You Really Got Me'.
As in every career, there have been ups and downs for Dave Davies and The Kinks and after they disbanded in 1996, Dave settled into a quiet life. Having suffered a stroke in 2004, it took Davies two years to recover enough to be able to walk, talk and play the guitar again.
Now he has returned to "celebrate 50 years of the sound that changed rock'n'roll." Although the concert marks the 50th anniversary of the founding of The Kinks, a reunion cannot be confirmed at this time.
The concert will take place on 11th April at the Barbican, London and follows a highly popular series of shows by Davies in the United States in 2013.
About Garment Printing
Garment Printing is an industry-leading international promotional and customised clothing company that aims to maximise the efficiency of marketing teams and agencies through its integrated, global supply chain. Garment Printing offers a complete range of bespoke personalised t-shirt printing techniques including screen printing, embroidery, direct-to-garment and the latest dye sublimation t-shirt printing technology combined with express turnaround and excellent customer service. Garment Printing's agency work involves consultation with global brands, marketing teams and promotional agencies to ensure all printed clothing campaigns are realistic, within budget and effective. Its dedicated team act as extended members of the client's business to efficiently exceed customer and client expectations. For more information visit our website, follow us on LinkedIn, Facebook and Twitter.