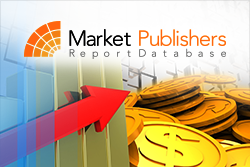 London, UK (PRWEB) April 09, 2014
The pancreatic cancer market value in the US and 5EU (the six major markets, or 6MM) in 2012 was USD 529 million. Just over 50% of pancreatic cancer sales (USD 275 million) were generated in the US, while sales in the 5EU stood at USD 254 million. By 2017-end, pancreatic cancer sales are projected to rise to USD 1.63 billion in the US and 5EU, at a CAGR of just over 25%. The proportion of sales from the US is expected to increase to 72%, whilst market share in the 5EU is set to decrease to 28% by the end of the forecast period. The market size is predicted to undergo a tremendous and fast increase across the US and 5EU owing to the launch of Celgene's Abraxane and the incorporation of five agents in the pipeline into US clinical practice in the offing. The sales of Abraxane are forecast to represent about 60% of the pancreatic cancer marketplace by the end of the forecast period, growing at a CAGR of 115% to reach USD 954 million in 2017.
GlaxoSmithKline, AbbVie, Roche, Novartis and AstraZeneca are the companies involved in exploring drugs in early-stage trials in pancreatic cancer patients. The developers of drugs that are capable of meeting some of the remaining high unmet need across pancreatic cancer patient segments are likely to get a strong commercial benefit.
Comprehensive research report "OpportunityAnalyzer: Pancreatic Cancer - Opportunity Analysis and Forecasts to 2017" worked out by GlobalData is now available at MarketPublishers.com
Report Details:
Title: OpportunityAnalyzer: Pancreatic Cancer - Opportunity Analysis and Forecasts to 2017
Published: March, 2014
Pages: 179
Price: US$ 5,995.00
http://marketpublishers.com/report/diagnostics-diseases/cancer/opportunityanalyzer-pancreatic-cancer-opportunity-analysis-n-forecasts-to-2017.html
The study gives an in-depth overview of the pancreatic cancer therapeutics market, providing top-line market revenue from 2012–2017 including annual cost of therapy, and key marketed and pipeline drug product sales over the forecast period. The report characterizes the market, identifies unmet needs, examines R&D strategies, and reviews clinical trial design for the market. A granular pipeline analysis is included, as well as is a comprehensive review of the main industry restraints, drivers and challenges. Additionally, the research report deeply investigates the current and potential market competition in the US and 5EU pancreatic cancer marketplace.
Report Scope:

Look at pancreatic cancer, its pidemiology, pathophysiology, etiology, symptoms, prognosis, and clinical staging.
Coverage of major markets – the US, Germany, France, Spain, Italy and the UK.
Top-line pancreatic cancer therapeutics market revenues over the years 2012–2017, with annual cost of therapy and major sales of drugs (marketed and pipeline) included.
Market characterization, strategic competitor assessment, high unmet needs, R&D strategies, and clinical trial design for the market.
Pipeline analysis, including all-round data split across various phases, emerging new trends under development, outline of novel early-stage projects, and granular analysis of drugs in the late-stage pipeline.
Insightful analysis of the market competition in the 6MM pancreatic cancer therapeutics market.
Detailed review of the main industry drivers, restraints and challenges, with each trend independently studied to give qualitative analysis of its implications.
Profiles of top companies, such as AbbVie, Astellas Pharma, Aduro BioTech, AstraZeneca, Bristol-Myers Squibb, Bayer, Threshold Pharmaceuticals, Celgene, GlaxoSmithKline, Halozyme Therapeutics, Immunomedics, Incyte, Merrimack Pharmaceuticals, Merck & Co., Merck KGaA, Eleison Pharmaceuticals, OncoMed Pharmaceuticals, NewLink Genetics Corporation, Novartis, Onconova Therapeutics, Regulon, and Roche.
More topical reports by the publisher can be found at GlobalData page.