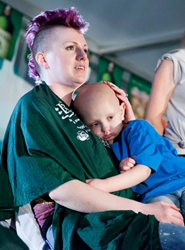 In a time where people have less and less to give, Fadó Irish Pub and the St. Baldrick's Foundation have found a formula that works.
Atlanta, GA (PRWEB) April 09, 2014
The St. Baldrick's Foundation is a non-profit organization that raises money and awareness to fight childhood cancer. Each year thousands of brave volunteers sign up to go under the clippers and then seek donations from their friends, neighbors and co-workers. On the big day shaveesSM gather at locations around the world and, with the help from local volunteers, they shave their heads bald. The event provides a fun, unique way to raise money for a serious cause, and this past fundraising season was no different. Fadó has partnered with the St. Baldrick's Foundation since 2002 and to date has raised more than $6 million to support St. Baldrick's mission to conquer childhood cancers. This achievement has turned into a rallying point for shavees and volunteers. As of April 3, 2014, 1,058 shavees across nine Fado Pubs have raised $1,007,837 this year alone, a record within the Foundation for any participating restaurant or pub chain.
Those numbers are impressive and everyone is immensely proud, but what makes St. Baldrick's fundraisers so meaningful are the individuals whose lives are changed so profoundly. Highlights from Fado St. Baldrick's events include:
Denver: 526 shavees, $427,206 raised
By all accounts this could be a top 3 earner in the entire country for all St. Baldrick's fundraisers. One great story involved four nurses who created a fundraising team in honor of Tuesday Whitt, who lost her battle to neuroblastoma when she was 2 years old. Team Tuesday set up an event and encouraged folks to dress up in superhero and princess costumes, and raised money through carnival games, caricature drawings, face painting and raffle prizes. The event was a success and Team Tuesday was the top fundraiser on the day, raising over $64,000 of the $427,206.
Seattle: 53 shavees, $46,913 raised
Named GQ's "Top 10 Soccer Bars" during the 2010 World Cup, the Seattle pub has always been a favorite spot for the Seattle Sounders FC and its players. This year, showing a bit of thanks for all that love, Sounders players Dylan Remick and David Estrado stopped in and served as guest barbers on the big day, helping to shave more than 50 heads! The goal of $30,000 was exceeded by a long shot this year, raising nearly $47,000.
Annapolis: 123 shavees, $113,441 raised
Each shavee signs up for his/her own reasons and local firefighter and friend of the pub, Christopher Ross, sums it up best, "I signed up five years ago after I met Joseph Sudo, a child battling cancer. After seeing Joseph's strength I realized that I was going to be fighting for him. Unfortunately Joseph passed away. Although he was only 12 when he died two years ago, I know he was stronger than I could ever be. I will always miss Joseph and want to fight for the children in his memory."
Atlanta: 48 shavees, $101,01 raised
In a show of solidarity for kids undergoing chemotherapy, a group of staff members from Children's Hospital of Atlanta volunteered their time, talent and hair to the cause.Dr. Brahma, neurosurgeon at Children's Hospital, had one of his former patients (now a cancer survivor) do the honors and shave his head. In total, the one team raised more than $65,000.
The planning starts months in advance as participants, volunteers and pub staff begin to spread the word with the hopes of beating the goal set the previous year. The entire community is involved and challenged to rise to the occasion. From local barbers and hair salons donating their time and equipment to pub regulars and staff donating cash and, of course, shaving their heads. The end result is a fun afternoon in an Irish Pub shared with friends that impacts the community and, most importantly, the lives of children battling cancer.
"I am particularly sensitive to children's charities and to cancer charities, so St Baldrick's is the perfect combination for me ," says Kieran McGill, CEO and owner of Fadó Pubs Inc. "St. Baldrick's events have given us a way to engage our customers and employees while making a meaningful impact in the lives of kids with cancer. In a time where people have less and less to give, Fadó Irish Pub and the St. Baldrick's Foundation have found a formula that works."
To learn more on how you can participate, contact your local Fado Irish Pub at http://www.fadoirishpub.com or go to StBaldricks.org/events.
About St. Baldrick's Foundation
The St. Baldrick's Foundation is a volunteer-driven charity committed to funding the most promising research to find cures for childhood cancers and give survivors long and healthy lives. St. Baldrick's coordinates its signature head-shaving events worldwide where participants collect pledges to shave their heads in solidarity with kids with cancer, raising money to fund research. Since 2005, St. Baldrick's has awarded more than $127 million to support lifesaving research, making the Foundation the largest private funder of childhood cancer research grants. St. Baldrick's funds are granted to some of the most brilliant childhood cancer research experts in the world and to younger professionals who will be the experts of tomorrow. Funds awarded also enable hundreds of local institutions to participate in national pediatric cancer clinical trials, and the new International Scholar grants train researchers to work in developing countries. For more information about the St. Baldrick's Foundation please call 1.888.899.BALD or visit http://www.StBaldricks.org.
About Fadó Irish Pub
Fadó Irish Pub is an Irish Pub distinguished by its genuine Irish hospitality, quality and craic (Gaelic for "good times"). Fadó was formed by three Irish and Irish-American entrepreneurs and opened in Atlanta in January 1996. Fado is well known for it's imported Dublin decor, state of the art draught beer system and European sports experience, including soccer. A US Soccer bar, Fado Irish Pub has enjoyed "best soccer bar" accolades year after year across different cities. Currently, Fado Irish Pub and, sister concept, Tigin Irish Pub are located in 14 different cities around the country including Atlanta, Annapolis, Austin, Chicago, Columbus, Washington D.C., Dallas, Denver, Philadelphia, New York, Miami, Stamford, St Louis, and Seattle.