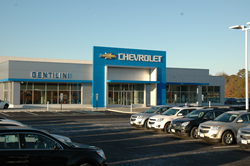 We know our community and our customers want real value, not empty promises.
Woodbine, NJ (PRWEB) April 10, 2014
When it comes to Gentilini Family Motors, this IS your grandfather's dealership.
Begun by Mike and Bruna Gentilini in 1955, the husband & wife family business was and remains old-fashioned when it comes to the down-home values of friendliness, reliability and trustworthiness. And, on the threshold of the fourth generation of family ownership, the locally-based enterprise retains old-time values now combined with new-age green technology and customer-service capability.
Originally Gentilini Family Ford and now today Gentilini Family Chevrolet, the other iconic American motor vehicle manufacturer, makes up Gentilini Family Motors, with both dealerships across from one another on 18 acres at John S. Penn Boulevard off Route 550 at the Woodbine Airport Complex.
Of course, the new Gentilini Family Chevrolet store, as with its Ford store across the street, consists of more than members of the Gentilini family. The scores of employees of the Gentilini name, including the fourth generation, numbers ten. In fact, the "family" designation in the company name goes well beyond a genealogical reference. It encompasses employees, customers and community.
Or, as Paul Gentilini, dealer-in-principal of the Chevrolet dealership and one of the founders' grandsons, says, "The commitment to community with job growth (50 percent increase on the day we opened.) A modern facility with customer convenience and satisfaction is our No. 1 priority."
How do customers fit in with the dealerships' "family" designation?
In 2013, and for the 20th time, Ford Motor Company's award for superior customer service has been awarded to the Woodbine dealership--an achievement fewer than ten dealerships in the entire United States can claim.
"We know our community and our customers want real value, not empty promises," says Paul Gentilini, elaborating, simply: "Treating the customer right always ensures the best deal."
As to the new dealership's green technology, the general public can see for themselves, when Gentilini Family Chevrolet hosts its grand opening in early May. The facility will be available for preview where you can experience for yourself the many amenities like a large comfortable waiting area, indoor delivery garage, heated drive up service reception, where every customer receives a free 4-point inspection, including a wheel alignment check. There will be live music, food and refreshments along with a chance at winning numerous prizes.
Paul Gentilini describes the overall dealership as utilizing "modern building methods lowering our impact on the environment and keeping overhead costs lower, allowing us to make the best deal on new and used vehicles while maintaining the highest customer satisfaction the Gentilini name has been associated with for the past 60 years."
Just down-to-earth honesty from a business that knows what family and community values are all about. Come experience that on May 3rd, for their formal grand opening celebration and watch for details as the date approaches.