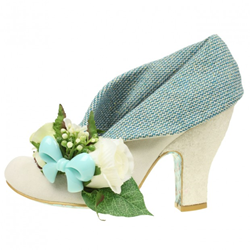 Irregular Choice wedding shoes have a vintage, romantic vibe that really works.... This collection gives a nod to retro style, but these shoes are also very modern.
San Francisco, CA (PRWEB) April 10, 2014
Ashbury Skies, a highly curated shoe boutique for fashion-forward women, announce the addition of Irregular Choice bridal shoes to its hipster, one-of-a-kind, wedding shoe collection. Ashbury Skies is the only US retailer carrying this limited edition assortment. Ashbury Skies offers a highly curated wedding shoe assortment for the unconventional, adventurous bride.
Wedding fashions are increasingly less fussy, with eclectic, vintage inspired aesthetics growing in popularity. More and more couples are choosing to get hitched in urban gardens, warehouses, rooftop decks and on the steps of City Hall. The Ashbury Skies indie shoe collection was created with these brides in mind.
"We are fired up to add the Irregular Choice, "Horse and Carriage" collection to our indie assortment this season," said Ashbury Skies Founder, Mary Sue Papale. Irregular Choice wedding shoes have a vintage, romantic vibe that really works for what is happening in the business of I Do's. The use of lace in this collection gives a nod to retro style, but these shoes are also very modern," she said.
"I named this the 'Horse Carriage' collection as this is old cockney slang for marriage," said Dan Sullivan, designer and founder of Irregular Choice. London native, Sullivan, is known for putting his own original stamp on his collections by using unusual decorative trims and patterns in his designs. "The flowers and prints were all designed myself and no other brands will have them," he said.
Irregular Choice shoes are produced in very limited supplies. Designs are never repeated which make this brand highly collectible by shoe aficionados worldwide.
The Irregular Choice "Horse and Carriage" indie wedding collection includes vintage inspired pumps with lace, linen and spectacular flower appliqués and wedding booties made of linen and lace with floral details. Heel heights range from 1-inch to 3-1/2 inches. Prices range from $149-$198.
Also released this week were six new styles in the Cold Feet by Jeffrey Campbell wedding shoe collection. This is an exclusive collaboration between Jeffrey Campbell and Ashbury Skies. Los Angeles based Jeffrey Campbell, known for capturing the essence of street fashion, looks at wedding shoes through a different lens in this collection. "His collection really resonates with the non-traditional bride," said Papale.
The Jeffrey Campbell Cold Feet collection features wedding sneakers with "I DO" engraved nameplates, lace variations of his signature "Lita" bootie and his towering "Damsel" wedge. Additional urban-inspired designs include a pump with an exaggerated garden print, flats with sparkly toes, heart shaped heels, ivory granny boots, wedding brogues and a pearl beach sandal. The prices on this collections range from $89 to $199.
Ashbury Skies is an independent online retailer of street fashion footwear by indie designers including Jeffrey Campbell, Irregular Choice, YRU, Gee WaWA, Miista, Privileged, UNIF among many others, with styles ranging from boots, wedges, flats, pumps and sandals. Founded in 2011, Ashbury Skies offers free shipping and free returns from its base in San Francisco, CA to customers across the US and around the world.