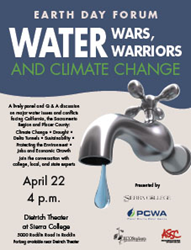 "Water issues are among the most debated public policy issues today. Sierra College is very pleased to host this important forum for the community to hear all sides and become more informed."
Rocklin, CA (PRWEB) April 11, 2014
The free forum, "Water Wars, Warriors and Climate Change," will begin at 4 p.m. and will cover a variety of water issues, including the Bay Delta Conservation Plan, water efficiency to reduce wastage and the ongoing drought. The Environmentally Concerned Organization of Students of Sierra College and the Associated Students of Sierra College are also sponsoring the event.
The community is encouraged to attend. The forum will include presentations and a question and answer period.
The forum's speakers will include:

Paul Helliker, Deputy Director, California Department of Water Resources, Delta and Statewide Water Management
Einar Maisch, Strategic Affairs Director, Placer County Water Agency
Joe Medeiros, Professor Emeritus, Biological Sciences, Sierra College
Terrance Davis, Drought Incident Commander, City of Sacramento
Bill Mueller, Chief Executive Officer, Valley Vision
The panel will be moderated by Kristine Gilbert, a Sierra College professor and chair of the College's Environmental Studies & Sustainability Department.
One of the primary topics for the forum is the Bay Delta Conservation Plan. The state Department of Water Resources says the Bay Delta Conservation Plan will restore the Sacramento-San Joaquin Delta ecosystem and secure water supplies for Southern California and the Central Valley.
But Northern California leaders, including cities and water agencies, have expressed concern that the BDCP will result in less water for Northern California once $25 billion has been spent on building 35-mile tunnels to divert water to the Central Valley and Southern California. Environmental groups have questioned whether the construction of the tunnels and the water diversion will harm the Delta ecosystem the BDCP says it will help.
Sierra College is located at 5000 Rocklin Road in Rocklin. Visitors may get a parking pass at dispensers located throughout the parking lots.
About PCWA
The Placer County Water Agency is the primary water resource agency for Placer County. PCWA carries out a broad range of responsibilities, including water resource planning and management, retail and wholesale supply of irrigation water and drinking water and production of hydroelectric energy in Placer County's 1,500 square mile area. For more information, please visit http://www.pcwa.net.
Sierra College
Since its founding in 1936, Sierra College has focused on quality instruction and meeting the needs of the communities that it serves. With approximately 125 degree and certification programs, Sierra College is ranked first in Northern California for transfers to four-year universities, offers career/technical training, and classes for upgrading job skills. For more information, visit http://www.sierracollege.edu.