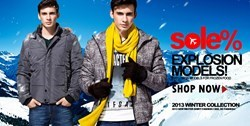 (PRWEB) April 10, 2014
Recently, Skmen.com, a leading clothing manufacturer and retailer, has added a new range of long sleeve shirts for women to its product line. Along with this, the company has launched a promotion for these attractive items. Each of them now comes with big discounts, up to 30% off.
The company's new selection of long sleeve shirts consists of more than 30 styles. They are available in many popular stunning colors. All of these graceful items are created by Skmen's top designers.
Skmen.com is a reliable online supplier; it has its own innovative design team that can often make beautiful and unique attire for men and women. Thus, the company always offers what consumers actually want. It has now become one of the most preferred clothing companies in the market.
The company sincerely hopes to help all people who are in need of suitable and fashionable clothes. It cannot be denied that when it comes to fashionable attire, customers' needs vary a lot. Some of them may worry about the size; some pay close attention to style. The company understands that, and it is always trying its best to meet the diverse needs of old and new clients.
About Skmen.com
Skmen.com, a reliable company founded in 2009, is one of the leading suppliers of men's and women's high quality clothes. It has more than 5000 customers from every part of the world; it hopes to help stylish ladies and gentlemen worldwide . For more detailed information about the company and its wonderful items, readers can visit http://www.skmen.com/product-long-sleeve-t-shirts-003009006.aspx.