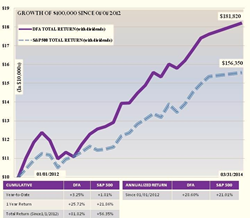 "We are extremely satisfied with the results derived by our firm's Chief Investment Officer Tim Travis." Said Roy Dekel CEO
Newport Beach, Calif. (PRWEB) April 15, 2014
Diverse Financial Investment Advisory Group (DFA) reported a strong 1st quarter start for firm's investment portfolio strategies, with total account gains of 3.25% in the quarter, versus 1.81% for the S&P 500. Cumulatively from January 1, 2012, DFA is now up 81.82%, versus 55.57% for the S&P 500. Additional charts and reports can be found by going to https://www.facebook.com/diversefinancial.
"We are extremely satisfied with the results derived by our firm's Chief Investment Officer Tim Travis. We know, understand and feel comfortable in strong markets; but with the designs of our portfolio, we also believe that we are positioned to protect our clients' assets in bear markets," said Roy Dekel, CEO of Diverse Financial.
"It is very important to not pay too much attention to the performance of any one quarter, or any one year. We take a much longer-term perspective in our investments; the value of our investment proposition will only be adequately seen in a five-year time horizon, which allows for a variety of market cycles. It is important to highlight this when our performance is significantly better than the market to build the proper expectations that there will assuredly be periods of underperformance in the future," said Tim Travis, CIO of Diverse Financial.
"Our goal is long-term capital growth through investing in a focused portfolio of equity and equity-like securities, acquired at prices well below underlying intrinsic values. In addition, we utilize the selling of options and the purchase of individually researched fixed income securities to generate income, with the purpose of trying to maximize risk-adjusted returns. We are most concerned with minimizing permanent losses of capital, as opposed to focusing primarily on volatility risk, which we view as short-term mark-to-market noise," said Travis.
Diverse Financial is an Asset and Wealth Management firm. We cater our proprietary and open architecture products to individuals, businesses, family offices, institutions and advisors. We work with clients as strategic partners to create and execute objective plans that address our clients' financial and investment needs. Using teams of financial specialists, Diverse Financial works to assist clients in developing a long-term investment, insurance and retirement plan. For more information visit http://www.diversefinancial.com.