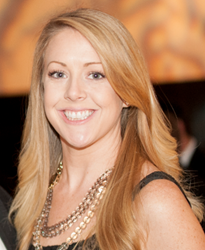 King of Prussia, PA (PRWEB) April 28, 2014
CMI/Compas Vice President, Media Director Beth Barron has been named 2014 Healthcare Businesswomen's Association (HBA) Rising Star. She was recognized for her excellence in strategic marketing and client service.
Beth is seen as the strategic guide for one of CMI/Compas' largest clients and epitomizes media brilliance targeting her clients' most important customers. This quality along with having a genuine and tenacious style has resulted in substantial business growth for CMI/Compas.
"Beth embodies the qualities of a rising star. Her zeal, drive and nurturing personality makes her a great mentor to all in and outside of our agency," says Gia Mauriello, SVP, Customer Relations and HBA Rising Star winner in 2001.
The HBA Rising Stars are professionals in various sectors of the healthcare industry who have demonstrated noteworthy achievements and proven attention to furthering their careers.
Beth will be honored at the Women of the Year luncheon held on Thursday May 1, 2014. In addition to honoring all of the HBA Rising Stars, the HBA will honor three Women of the Year in 2014 to celebrate the silver anniversary of this honor.
About CMI/Compas
Well-known as a media planning and buying organization for healthcare clients, sister agencies Communications Media, Inc. (CMI) and Compas, Inc. together form the indispensable strategic marketing partner to the world's game-changers in health, offering guidance at every level of marketing. CMI/Compas focuses on core service offerings of Media, Innovation, Customer Insights, Technology, and Buying. CMI/Compas is laser-focused on helping clients move the promotional needle. CMI/Compas has offices in Philadelphia; King of Prussia, PA; Pennsauken, NJ; and New York. The family of companies is actively recruiting for healthcare marketing jobs via http://www.cmirecruiter.com.