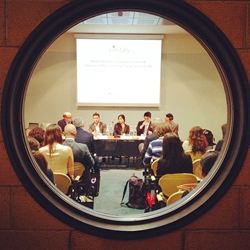 The enormous potential of the Chinese market has been on the top of our agenda this year. We were pleased to be able to bring these trade professionals here to Verona to share their insights with our Italian producers.
Verona, Italy (PRWEB) April 11, 2014
China and Hong Kong had top billing at Vinitaly's new Talk Business series, as Vinitaly International gathered press, importers, sommeliers, and educators from two markets in which it has focused much of its efforts in the past year. In four seminars from April 6th to 8th, these sector professionals offered advice to Italian producers eager to succeed in these high-growth markets.
The lively debates that unfolded in each session revealed the complexity and nuance that characterizes the Chinese territory – not only in regards to the more developed Hong Kong market, but within mainland China as well. "Today we're talking about the Chinese market, but we should really be talking about Chinese markets – because there's a big difference between high and low end consumers," explained Anthony Zhang, manager of Hoonay Wines importers.
"Very often people speak about China as if there is no knowledge of wine. That is far from the truth," agreed Qianrui Cheng, senior editor for Wine in China. "There is a segment of the market that is incredibly knowledgeable about wine, and really knows and appreciates Italian wine, and has for years. So the picture is very complex."
From the perspective of importers of Chinese wine, this complexity demands a level of unity among Italian producers that has not yet been achieved. "China is not a country, it's a continent. It's like trying to create a sales network in all of Europe," affirmed Cristiano Fagioli, importer for 100 ITA. "Producers need cooperation; if they work together, they can reduce costs, ensure temperature control and facilitate transactions."
"Italian wineries should consider consortia or other organizing bodies. Producers are much stronger together, but this kind of organization doesn't exist yet for Italy," agreed Anthony Zhang.
Despite the complexities and challenges of the Asian market, there was consensus about the enormous potential for Italian wine in both Hong Kong and China. "If producers are willing to come with their wines and sit down and talk, you'll find that sommeliers in Hong Kong and China are really willing to listen," encouraged James Elliot Faber, sommelier at Yardbird and Ronin restaurants in Hong Kong. "Palates in Hong Kong are really sophisticated, and there is lots of potential to pair Italian wines with Asian cuisines."
"Italy currently has less than 10% of the market – but this isn't reasonable. Italian wine has 20% market share potential," argued Dixon Yuan, CEO of Yesmywine e-commerce platform. "The Chinese middle class is getting richer, and is now able to pay $10-$20 for a bottle of wine. Italy is very strong in this category."
"We're seeking more Italian wines because of value and appropriateness of pairing with Asian cuisines," agreed Christian Pillsbury, Managing Director of Applied Wines, the largest wine consultancy to Asian restaurants.
For many panelists, the key to developing this potential is education. "For Hong Kong consumers, 67% of purchasing decisions are based on personal recommendations," explained JC Viens, Hong Kong-based wine educator. "So education is key not only for wine industry professionals, but also for ordinary consumers to spread the word among their friends and family."
"When it comes to Chinese restaurants, it's all about catching people at the early stage, when they start adapting the custom of drinking with meals, and drinking wine," argued Christian Pillsbury. "Italy has a chance to be there at the beginning of the conversation."
And that conversation must include a social media strategy, as Dixon Yuan explained: "Consumers under 28 are the 'internet generation' – they don't' watch TV, they don't read newspapers. If you want to reach the rising generation in China, you must use digital media, including mobile applications like WeChat."
"The enormous potential of the Chinese market has been on the top of our agenda this year," explains Managing Director of Vinitaly International Stevie Kim. "We held events in Hong Kong, Chengdu, and will be in Shanghai in May. The panelists at Verona this week are all key players I've met on my frequent trips to China; we are firmly convinced that China and Hong Kong represents a great growth opportunity, and we were pleased to be able to bring these trade professionals here to Verona to share their insights with our Italian producers."
The opportunity to have so many high-profile Hong Kong importers, educators, press, and sommeliers was made possible by the Italian Ministero Sviluppo Economico (MISE), who has provided funding for a project to promote Italian wine in both Hong Kong and Australia. The Talk Business series concluded on April 9th with a panel of speakers brought to Verona by the ministry to discuss the growth potential for Italian wine in Australia. As MISE representative Elena Toselli explained, "The project was born to spread the culture of Italian wine in Australia and Hong Kong. It's a pilot project, and the key word is education – we know our wine is excellent, and it should also be the representation of our lifestyle abroad."
The Australian initiative will conclude in October, when Ian D'Agata, scientific director of the Vintialy International Academy, will present the VIA educational seminar series in Australia. "This project is fundamental because we can be doing a lot more to sell Italian wines in markets like Australia, and MISE's support is essential; it's only by spreading education that we can sell more Italian wine."
About:
Veronafiere is the leading organizer of trade shows in Italy including Vinitaly (http://www.vinitaly.com), the largest wine event in the world. The 48th edition of Vinitaly counted some 155,000 visitors (+6%) in four days of event, of which 56.000 were international attendees representing 36% of the total. On 100.000 square meters, 4.000 exhibitors welcomed trade professionals, media and producers alike. The next installment of the fair will take place on 22 – 25 March 2015. The premier event to Vinitaly, OperaWine (http://www.vinitalyinternational.com) "Finest Italian Wines: 100 Great Producers," will unite international wine professionals on March 21st 2015 in the heart of Verona, allowing them to discover and taste the 100 best Italian wines, as selected by Wine Spectator. In 1998 Veronafiere also created Vinitaly International to develop a global platform for the promotion of Italian wine producers in foreign markets such as Russia, China, USA and Hong Kong.
###