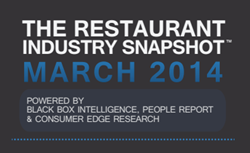 "The industry's overall same-store sales issues run deeper than simply having experienced a very bad winter. The real problem is rooted in the declining same-store traffic which the industry has been experiencing for years" - Wally Doolin
Dallas, TX (PRWEB) April 11, 2014
Same-store sales growth in restaurants was positive during March. As expected, March brought good news for the restaurant industry once the crippling effect of this year's unusually cold winter started fading away. This is the first time since November of 2013 that the industry reported positive growth in same-store sales; which further highlights the effect that the winter storms had on the industry's downturn. The March positive results, however, were not enough to pull the industry's same-store sales growth into positive territory for Q1 of 2014. This was reported by Black Box Intelligence and People Report in The Restaurant Industry Snapshot for March, released this week.
Same-store sales growth was 0.7% for March, a strong 1.4% improvement from the -0.7% reported for February. "The year-over-year performance for March was especially strong considering that the bar was set pretty high by March 2013, which posted same-store sales around 1.5%", said Victor Fernandez, Executive Director of Insights and Knowledge for TDn2K, parent company of Black Box Intelligence and People Report. "That represents same-store sales growth of over 2.0% for March 2014 when aggregated on a two year basis. As we have been predicting, there was significant pent up demand in consumers for incremental spending in restaurants, but that demand continued to be restricted by the weather. As expected, March saw a change in those conditions which were very favorable for the industry" continued Fernandez.
First quarter same-store sales growth was -0.2%, compared to -0.4 in Q1 of 2013. This represents a slight drop from the growth rate reported for the fourth quarter of last year and is the third consecutive quarter in which same-store sales have been negative for the industry. "The industry's overall same-store sales issues run deeper than simply having experienced a very bad winter", said Wally Doolin, founder of Black Box Intelligence. "The real problem is rooted in the declining same-store traffic which the industry has been experiencing for years".
Same-store traffic growth was -1.2% for March 2014. Despite this representing a significant 2.0% improvement from February's guest count growth, it still highlights the industry's issue with attracting guests. Same-store traffic growth results have now been negative every month since March of 2012.
First quarter same-store traffic growth was -2.2%. This was a small improvement from the -2.3% growth seen during the fourth quarter of last year, but this was clearly not a good quarter for the restaurant industry regarding guest counts considering that the average quarterly same-store traffic growth since the beginning of 2012 is -1.6%.
Weather as a factor interfering with people going out to eat during the first quarter can be perceived when looking at the same-store traffic growth rates by region. The three best performing regions based on guest count growth were Texas, the Western region and Florida. The three worst performing regions for first quarter were New York-New Jersey, the Mid-Atlantic and the Midwest, all heavily affected by the winter storms.
The Restaurant Willingness to Spend Index, published by Consumer Edge Research, shows a 92 point value for March; this represents a small two point drop from the 94 reported for February. This last drop notwithstanding, the consumer's willingness to spend in restaurants is higher now than it was a year ago, which is a positive indicator for the industry
Growth in the restaurant industry continues to be driven by new units being opened, as same-store sales continue to struggle. Evidence of this growth is the strong job creation trend reported by People Report. According to the latest report year-over-year job growth for the industry was 3.8% during February, up from 3.3% reported for January. The pressures of increased recruitment levels as well as the tightening labor market continue to be felt in the form of increased restaurant turnover levels. Restaurant manager and restaurant hourly employee turnover increased in March on both a rolling twelve month and year-to-date basis.
The Restaurant Industry Snapshot is a compilation of real sales and traffic results from over 180 DMAs from 100+ restaurant brands and 17,000 restaurants that are clients of Black Box Intelligence, a TDn2K company. Currently, data is reported in four distinct segments: casual dining, upscale/fine-dining, fast casual, and family dining. Black Box Intelligence is a sister company to People Report, which tracks the workforce analytics of one million restaurant employees. TDn2K reports on over 30,000 restaurant units, one million employees and 40 billion dollars in sales. The Restaurant Industry Willingness to Spend Index from Consumer Edge Research, a monthly household survey of more than 2,500 consumers. The Snapshot is also regularly featured in Nation's Restaurant News.