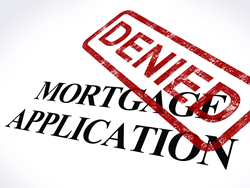 First-time buyers accounted for only 28 percent of sales in February, slightly more than in January. Re-sales and new home sales are down and it seems to be the National Lenders that got bailed out by Tarp's fault.
Mobile, AL (PRWEB) April 15, 2014
"As a result of these blockers and structural problems in the housing economy, mortgage approvals are down, the re-sale market is at an all time low since July 2012 according to National Mortgage News.
According to Joel S. Pate, president and CEO of Scoreinc.com, "Lenders across the country will automatically decline a loan if the consumer's "Native Credit Score" has been updated. These can be because of the use of the bureaus own Rapid Rescore product or the services of a licensed, bonded and legally compliant credit repair professional. This move has Realtors® and Builders up in arms looking for a way to navigate through these muddy waters. Score's answer to the problem is a training program created specifically for the Credit Repair Company. This Realtor® Bait Courseware™ product and webinar training are specifically designed to assist the Credit Repair Organization in their presentation to Realtors® and Builders as they seek to understand credit repair services and how that will help them to overcome lagging sales numbers.
"In today's housing market, builders and Realtors® cannot afford their sales to be hindered by lenders that will not refer a consumer to a credit repair company or use the bureaus on Rapid Rescore product on credit turn downs. Sales are too few; mortgage approvals are already too low, and cost is too high to allow a blocker to the approval process," according to industry leader Joshua Carmona.
Score's Realtor® and builder clients that use the professional services of the Scoreway Turn Key Credit Repair Solution or the services of Credit Repair Professionals that do business with score tell us, "We cannot not allow any further decline in their closing ratio and remain profitable. As a result, business leaders are turning to the services of a professional credit repair companies and mortgage lenders that Score represents for alternatives," according to Pate.
As a result of the unprecedented mortgage approval crisis, Scoreinc.com has developed the industry's first training series. The training has a track record of opening the door to real estate offices and builders by defining the actual problem facing not only the consumer but also the Real Estate business. According to Miguel Silva, one of the first credit repair companies to purchase the Realtor® Bait Courseware training:
"Since the purchase of the Credit Repair Organizations Realtor® Bait Courseware™, I've been scheduling lunch meetings with Realtors and Loan officers for the past three weeks. We have had 30 plus newly referred clients from only 3 Realtors and 5 Loan Officers. The Realtor® Bait Courseware™ has been the best investment we've ever made. Relationship is building the good old fashion way, thanks to Score's Realtor® Bait Courseware™ and Scoreinc.com I have had great success!," Miguel Silva, "Increditable Advisors
"Now is the perfect time to add marketing vertical to your business." While I have a number of mortgage loan originators that continue to send me business, it was time to break into the major real estate offices in my business. Until I purchased Score's Realtor® Bait Courseware™, I just could not seem to overcome their objections. Plus, I did not know what to say when I got into the real estate office. But now, with customized training program from Scoreinc.com, we have been able to set up a number of successful sales meetings. The Realtor® Bait Courseware™ has led to direct business with real estate agents in my own market," Kevin Foster-TRW Credit Services
To find out more about this first of it's kind real estate agent procurement customized training, visit REALTOR® BAIT COURSEWARE ™
About Scoreinc.com
Scoreinc.com, Inc., headquarter in Mayaguez Puerto Rico USA, with offices in Mobile Alabama, is a leading provider of services to the derogatory credit sector of the financial service industry through its Scoreway® Turn Key Credit Repair Business Software Solution and credit report accuracy dispute services. The Scoreway® platform provides an end-to-end management solution that helps the companies that we serve manage the credit review and dispute process and to improve controls and profitability. Scoreinc.com services an ever growing list of mortgage company's, banks, credit unions, Realtors®, builders and credit service organizations through its innovative technology and credit report accuracy service. Contact Score for more information at 877-876-5921 or by visiting http://www.scoreinc.com.