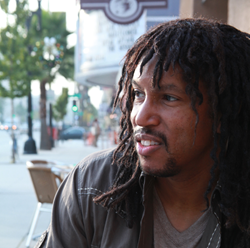 I'm very excited to be a part of the family of artists for Reunion Blues. I use the RB Continentalline of saxophone cases and couldn't be happier. They look great, their small, compact size andthe light­weight design makes them easy to carry and fit in
Petaluma, CA (PRWEB) April 13, 2014
Instrument case and gig bag maker Reunion Blues officially welcomes Grammy ­nominated multi­-instrumentalist and producer Scott Mayo. A native of Rochester, N.Y., Scott has toured the world with numerous artists and is a fixture in the Los Angeles music scene playing saxophone, flute, clarinet and piano. Mayo is known for his versatile style and ability to move freely within any musical genre, from Pop, R&B, Rock, and Jazz, to Classical and Hip Hop.
Mayo has performed on numerous hit shows, including American Idol, The Voice, The Tonight Show with Jay Leno, The Singing Bee, and has now been selected as a new member of the Dancing With The Stars house band. Scott can also be heard on the soundtracks for Happy Feet Two and the 2013 animated film, Epic. He received a "Best R&B Album" Grammy Award Nomination for producing the Oleta Adams album, Moving On, as well as a Grammy Award Nomination as the featured performer on Gerald Wilson's Theme from Monterey.
Scott has performed with a wide variety of notable artists such as: Mick Jagger, Queen Latifah, Sergio Mendes, Rickie Lee Jones, Earth Wind & Fire, Band from TV, CeeLo Green, Mariah Carey, Usher, Blake Shelton, Shakira, Stevie Wonder, Bonnie Raitt, Michael Bolton, Luther Vandross, the Los Angeles Philharmonic Orchestra, Ice Cube, and Brazilian guitarist, Dori Caymmi.
Reunion Blues is proud to support Scott Mayo and welcome him to their growing family of artists.
"I'm very excited to be a part of the family of artists for Reunion Blues. I use the RB Continental line of saxophone cases and couldn't be happier. They look great, their small, compact size and the light­weight design makes them easy to carry and fit in any overhead compartment when I travel and, the best part for me, they really protect my babies – my horns. I've searched a long time for cases that can fit my demanding lifestyle, and whether I'm in the studio, on the set or on the road, Reunion Blues is simply the best!" ­- Scott Mayo
For more information, please visit us at http://www.reunionblues.com.