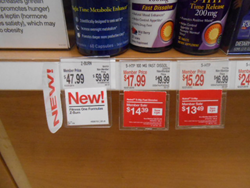 Vinyl products are an integral part of advertising.
Palm Desert, CA (PRWEB) April 14, 2014
The launch of Benchmark Vinyl.com provides businesses with a fast new option for getting quality vinyl display products to showcase their goods and literature.
This newest division of Benchmark Displays in an effort to furnish Benchmark's customers with more specialized solutions at affordable prices, said JoAnne Frohman, the president and chief executive officer of Benchmark Displays.
"Customers choose our vinyl displays because they get exactly what they need at great prices," said Frohman, who co-founded the company with her husband, Dick.
Benchmark Vinyl is a division of Benchmark Displays, which has designed and manufactured high-quality displays for products and literature for more than 30 years. More information and the division's catalog can be viewed at http://www.benchmarkvinyl.com.
The new vinyl product line includes shelf talkers, brochure holders, sign holders, channel strips, tent displays and more. Benchmark Vinyl also offers custom vinyl applications.
Benchmark Vinyl uses sturdy, clear PVC materials and proprietary processing equipment to manufacture vinyl products that last.
"Vinyl products are an integral part of advertising and have a huge impact in the retail industry," Frohman said. "Now Benchmark Vinyl is making it easy for businesses to get both custom-made as well as commonly-used vinyl displays fast."
About Benchmark Displays
Benchmark Displays and its three divisions (including Benchmark Vinyl) design, develop and produce unique, award-winning custom displays for Fortune 500 companies and other businesses of all sizes. Based in Palm Desert, Calif., the company was founded by Dick and JoAnne Frohman in 1983 as Taymar Industries. Now, with JoAnne Frohman serving as the president and chief executive officer, Benchmark Displays is one of the few woman-owned businesses in the industry. Its calatog includes price channel card holders, in-store signage, tent easels, slatwall hangers and other vinyl and cardboard products for a variety of companies, including those in the retail, beauty, hospitality, travel and medical industries. For more information, visit http://www.benchmarkdisplays.com.