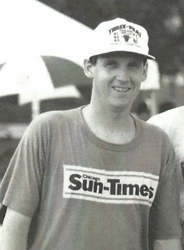 (PRWEB) April 15, 2014
Most Chicago-style 16-inch softball stars are known for their place-hitting touch or prowess in hammering a long homerun ball. However, Tom (Bomber) Horn, a Wall-of-Fame inductee in the 2013 Chicago Softball Hall of Fame, executed one of the most amazing defensive plays witnessed in the Windy City in recent decades at the 1993 Old Style Classic tournament.
The play occurred while Horn was pitching to a swift left handed batter in a game for the Chicago Sun-Times' elite tournament team. The batter hit a spinning "pool-cue" shot that dribbled between the pitcher's rubber and first base. Instead of pouncing on the ball, Horn kicked it soccer-style along the ground into the outstretched hands of Sun-Times first baseman Mark Masterson, nipping the runner by a half-step.
As a result, the Sun-Times came out of the loser's bracket in the double-elimination tournament to win the Old Style Classic. "Bomber was one of the best fielding pitchers in the game," said Ron Kubicki, president of the Hall of Fame. "His reflexes were so quick that many batters feared trying to hit the ball past him."
Horn won more than 100 softball championships—including several National and USSSA World titles—playing for 27 different teams, including such powerhouses as Lettuce, Miller Taggers, Licorice, Touch, Rabbits, Storm, Fusion, Jackmen and Rox.
Horn is being honored with a plaque on the Wall of Fame, along with three other softball greats, Curtis Granderson, Sr., Toncie Siriscevich and Daniel (Sheik) Carmody, another slick-fielding pitcher from the North Side.
The 18th annual Hall of Fame induction ceremony and awards dinner is scheduled to be held at 6 p.m. on Saturday, April 26th at Drury Lane Theater & Conference Center in Oakbrook Terrace.
The 16-Inch Chicago Softball Hall of Fame honors both men and women—players, historic teams, organizers, managers and umpires—who since the 1920s have "excelled at their craft, provided thrills and memories and have set the benchmark for future generations," Kubicki said.
More than 3,800 people voted for their favorite and best stars in Chicago 16-inch softball for the 2013 Hall of Fame induction competition. Since 1995, the institution has inducted more than 400 individuals and teams.
The Hall of Fame will induct 23 individuals and four historic teams at this year's event. The prior 17 Hall of Fame events have attracted more than 10,200 guests to the dinner.
"It is always a wonderful night to congratulate the winners and network with past friends, teammates and competitors," said Al Maag, who co-founded the Hall of Fame with Tony Reibel. More than 600 people are expected to attend the awards event, Maag said.
"Each year it gets tougher reviewing nominations, but when the dust settles the crop of stellar players and supporters of our game is always impressive. This year is not exception," noted Kubicki.
Details on the 2013 Chicago 16-Inch Softball Hall of Fame honorees follow:

Historic Teams: Deathwish, Peppers, Saints, Traffic.
Pioneers—1950-1963 Era: Don Savage.
1964-1980 Era: Ken Izral, Robert (Bobby) Bernstein, Ray Johnson.
1981-1992: Bruce Parker, Drake Jones, John Stock.
1993-current Era: Israel Sanchez, Dave Reuhl, Danny Jalowiec.
Organizer: Ron Onesti.
Umpire: Pete McGuire.
Managers: Sherman Nelson, Rich (Chubbs) Polfus.
Woman: Renee Strasser, Colleen Lintart.
Field of Dreams: Clyde Park.
Frank C. Holan Award: John Reglein, Rich Catizone.
Richard J. Daley Friend of Softball Award: Sal Milazzo.
Presidential Service Award: MB Financial Bank.
City of Chicago High School Champs: Northside Prep.
Tickets for the Hall of Fame event—which includes a four-course dinner, four hours of open bar and free parking—are available in advance until April 18th for $110 each, and $75 for people under 21 years of age. Tickets are $135 and $95 at the door. For more information, please call Donna Levy at 630-696-5054, via e-mail: dlevy(at)kellencompany(dot)com.
The Chicago 16-Inch Softball Hall of Fame is a non-profit organization dedicated to preserving and honoring the history, players and supporters of 16-inch softball. For more information, visit: http://www.16inchsoftballhof.com.
By Don DeBat a 1999, 2008 and 2010 Softball Hall of Fame inductee.
###