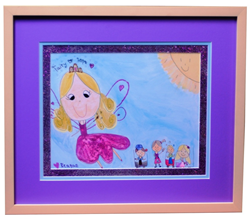 'Reagan not only inspires the community through her role as MDA National Goodwill Ambassador but now through her art,' said MDA Community Relations Manager Courtney McEleney.
Tucson, AZ (PRWEB) April 14, 2014
A mixed media painting created by MDA National Goodwill Ambassador Reagan Imhoff, 8, of New Berlin, Wis. has been accepted into the Muscular Dystrophy Association Art Collection. Now in its 22nd year, the Collection features artwork by people from across the country with muscular dystrophy and related diseases.
"Fairy of Hope" is Reagan's first donation accepted into the collection. Her colorful and vibrant artwork features a happy and beautiful fairy dressed in pink flying over three of Reagan's friends, all living with muscle disease, as well as Reagan herself.
According to Reagan, "The Fairy of Hope brings happiness and hope to children with muscle disease. In the picture, we're all having fun together, playing sports, drawing, juggling and dancing. I drew the Fairy of Hope to look just like me because I love helping my MDA friends and we can all be fairies of hope."
Reagan is a third grader who enjoys art, social studies, and recess. She loves reading, dancing, drawing, swimming, traveling, musicals, and going to MDA summer camp. She also takes dance lessons, attends art class, and enjoys spending time with her family and friends. Reagan dreams of being an artist, a dancer, and a nurse.
Throughout 2014, Reagan and her parents will travel the country representing individuals and families served by the MDA, speaking at national sponsor events as well as conferences and special MDA events. She will also appear in national public service announcements, promotional materials, and media engagements.
Reagan has spinal muscular atrophy (SMA), a genetic disease affecting the part of the nervous system that controls voluntary muscle movement. The biggest potential problems in SMA are respiratory muscle weakness, swallowing muscle weakness, and back muscle weakness with progressive spinal curvature.
"We're honored to receive this wonderful artwork by Reagan into the permanent MDA Art Collection," said MDA Community Relations Manager Courtney McEleney. "Reagan not only inspires the community through her role as MDA National Goodwill Ambassador but now through her art."
The MDA Art Collection was established in 1992 to focus attention on the achievements of artists with disabilities and to emphasize that physical disability is no barrier to creativity. It comprises 400 works by artists age 2 to 84, representing all 50 states. Each artist is affected by one of the more than 40 diseases in MDA's program.
Selected art from the Collection has been exhibited at the Dallas Museum of Art; Cork Gallery at Lincoln Center and the Forbes Collection in New York City; Chicago Public Library; Fort Lauderdale Museum of Art; Los Angeles Children's Museum; Capital Children's Museum, Washington, D.C.; and many other sites.
MDA maintains clinics for area children and adults with muscle diseases at the Children's Hospital of Wisconsin and at Froedtert Memorial Lutheran Hospital in Milwaukee.
About MDA
The Muscular Dystrophy Association is the world's leading nonprofit health agency dedicated to finding treatments and cures for muscular dystrophy, amyotrophic lateral sclerosis (ALS), and other neuromuscular diseases. It does so by funding worldwide research; by providing comprehensive health care services and support to MDA families nationwide; and by rallying communities to fight back through advocacy, fundraising, and local engagement. Visit mda.org and follow us at facebook.com/MDAnational and @MDAnews.
–MDA–