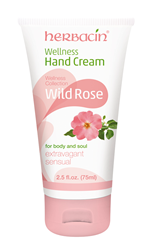 Dallas, TX (PRWEB) April 16, 2014
Herbacin cosmetic, a 109-year-old beauty company, has recently introduced Wellness Hand Cream in a newly designed 2.5 fl. oz. squeeze tube, featuring a flip cap for easy application. Available in naturally derived botanical scents of soft lavender and wild rose, these light, nourishing creams are made with natural fruit extracts, essential oils, and plant-based glycerin, and—like the rest of the Herbacin line—feature the finest sustainable herbs and botanicals.
It is no secret that we often overlook our hands. They take daily punishment from the elements and the environment, so keeping them well-nourished and moisturized all-year-round is essential. Our hands need the same kind of TLC as the rest of our skin, in order to keep them looking youthful and feeling smooth and soft.
The Herbacin Wellness Hand Cream moisturizes, hydrates, and protects hands by creating a protective barrier on surface of the skin. Non-greasy, with scents that are subtle enough to leave just a hint of floral fragrance, the Wellness Hand Cream retails for $5.99 for a 2.5 fl. oz. (75ml) tube. Available at drugstore.com, walgreens.com, Harmon Stores, and select Whole Foods markets, as well as natural health stores nationwide.
Herbacin takes pride in producing pure and natural formulations—always using the finest sustainable herbs and botanicals, their products have stood the test of time.
For additional information or samples of the new Wild Rose and/or Lavender Wellness Hand Cream, please contact, Leesa Raab, Leesa(at)Adinfinitumny(dot)com, 212.693.2150 x314
About Herbacin®
Founded in the heart of Germany in 1905, Herbacin created a very distinctive brand early on, that to this day reflects its collaboration with nature. By sourcing the very best organic ingredients, this trusted brand has become well-known for formulas that work. The original Herbacin hand lotion is still a beloved product and women around the globe instantly recognize its distinctive green packaging.
This European botanically based skin, hair, and body care line is highly regarded for its commitment to product excellence and integrity. All Herbacin products are produced at the company's facility in Wutha-Farnroda, Germany and undergo dermatological testing to ensure purity and efficacy.
The full line includes: Herbacin Kamille Green Line, Herbal Facial Care, Herbal Hair Care, Herbal Shower Gel, as well as a Foot Care Line.
Herbacin products are available in 40 countries worldwide.