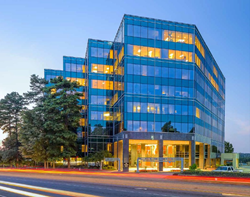 Denver, Colorado (PRWEB) April 14, 2014
Amstar announced today the recapitalization of Centrum at Glenridge with operating partner Origin Capital Partners. Origin, a Chicago-based real estate investment manager, acquired the 186,362 sf, eight-story, multi-tenant office building in February 2014 as part of its second value-add fund. The seller was a joint venture between Atlanta-based Ackerman & Co and Northwestern Mutual. The recapitalization was facilitated by Ken Grimes of Patterson Real Estate Advisory Group.
Centrum at Glenridge is located on Johnson Ferry Road in Atlanta's Central Perimeter submarket and is currently 84% leased to 15 tenants. The Property features a diverse tenant base and staggered rent roll, anchored by Haverty Furniture Company, Inc. and Cumulus Media. The Property features an exercise facility, on site café and conference room, and benefits from walkable access to several dining options and other amenities. The Property's strategic location in the southwest quadrant of the Central Perimeter submarket allows for easy access from both GA 400 and I-285, and provides premier views and unobstructed visibility from the highway.
The partnership will perform capital improvements in order to reposition the Property and lease the remaining vacancy at a time when the market is recovering and there is upward pressure on market rents. "The investment fits Amstar's strategy of investing in well-located, quality real estate at a discount to replacement cost, with the opportunity to add value through capital improvements and lease up," said Amstar Vice President Jeff Stonger.
About Amstar
Established in 1987 and headquartered in Denver, Colorado, Amstar is a real estate investment manager that acquires, develops and manages office, multifamily, retail, hotel and industrial properties in the U.S. and select international markets. Originally formed to invest and manage the real estate allocation of a large family office client, Amstar began expanding its capital strategy nearly a decade ago and has grown to more than $2.5 billion in assets under management (as of March 31, 2014). Amstar's clients originate from across the globe and include U.S. and European institutions, insurance companies, private banks, funds of funds, and family offices. For more information, visit http://www.amstar.com.
About Origin Capital
Origin Capital is a Chicago-based real estate investment manager that acquires commercial real estate in select markets across the nation on behalf of its principals and investment partners. Origin's investment team has more than 90 years of combined experience and has handled over $6.5 billion in commercial real estate transactions. Origin offers fund opportunities and separately managed account to high net worth individuals, family offices and institutions who value alignment, transparency and a boutique firm that allows a direct relationship with management. For more information, visit http://www.origincapitalpartners.com.