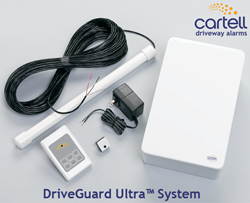 There is an emotional aura that this feature of the DriveGuard Ultra™ triggers...
Salunga, PA (PRWEB) April 19, 2014
Cartell's DriveGuard Ultra™ system is the result of over thirty years of product evolution, culminating in a system that offers more features, longevity and reliable performance than any other vehicle detection product in the industry.
The DriveGuard Ultra™ system is made up of three components: a sensor probe that is buried beside and toward the end of the driveway, a control unit installed in the home, and electronic sounders that may be installed in multiple locations in the home or other structures on the property. Electronic buttons on the sounder faceplate allow the homeowner to interact with the control unit to turn the lights on and off manually and turn the sensor probe off for an adjustable amount of time.
A 15-amp floodlight relay on the DriveGuard Ultra™ allows 1800 watts of light from a single circuit to be integrated with the system. When the home owner returns at night, lights outside and inside the home will be automatically turned on, giving a pathway of safety into the home. When strangers (or would-be criminals) drive up, they will know they have been professionally detected and the house will be made to look occupied.
To keep the lights off during daylight, a photocell comes standard with the DriveGuard Ultra™ system. It attaches to a window via double-sided tape. This feature saves electric, by keeping lights off during the daytime and making it so homeowners do not keep their lights on at night.
"There is an emotional aura that this feature of the DriveGuard Ultra™ triggers, especially in women, when they return home alone at night," says Jonathan Bohannon, President/CEO of Preferred Technologies Group, maker of Cartell. "This is peace of mind at its best," Bohannon continues. "Imagine never having to return home to a dark house, drive up a dark driveway, or enter a dark home again. With Cartell, we take the fear out of returning home alone and at night."
Cartell, founded in 1975, is a division of Preferred Technologies Group, located in Lancaster County, Pennsylvania. Starting with its groundbreaking use of magnetometer technology for vehicle detection, Cartell has led the industry with innovation, functionality, quality and value. The dependability of Cartell's products far exceeds the industry standard and is backed by a five-year warranty. Every Cartell product is quality-made in the U.S.A. and sold by a national network of fine distributors.
The graphic used can be downloaded at the following: http://cartell.com/driveway/cartell-ultra.jpg.
Media Contact
Jonathan Bohannon, President/CEO
(717) 898-0107
j.bohannon(at)cartell(dot)com
http://www.cartell.com