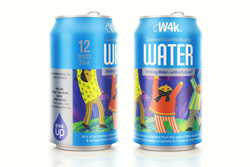 Helping people lead healthier, more productive lives is important to us", said CW4K Founder, Greg Stromberg
Sussex, Wisconsin (PRWEB) April 12, 2014
CW4K is proud to support Life Navigators and their Afternoon at the Movies and special showing of Disney's "Frozen".
Organized by Life Navigators, the event reinforces their mission to improve the quality of life for individuals with developmental and related disabilities, their families, and the community.
CW4K will be supplying drinking water for the afternoon. "Helping people lead healthier, more productive lives is important to us", said CW4K Founder, Greg Stromberg. "Life Navigators appears to share that desire. We are happy to help them make a difference".
Amanda Stahmann, Life Navigators Marketing & Development Coordinator said, "Life Navigators is extremely excited to have CannedWater4Kids as our 2014 Water Sponsor. We are looking forward to developing a strong relationship between our two organizations. The mission of CannedWater4Kids to provide individuals with resources that impact upon their health and well being is something that we also strive to promote amongst the individuals that we serve."
The event will take place on Saturday, April 12 from 1:30 to 4:30 at the Cardinal Stritch University, Schroeder Auditorium 6801 N. Yates Road, Fox Point, WI.
Everyone is welcome. There is free parking. Snacks and beverages will be served.
CannedWater4Kids is a 501c3 charity based in Sussex, WI. The organization's mission is to bring clean, safe water to the children of the world who are currently without. CW4K funds it's initiatives with cash donations and sales of their premium spring water product. Of every dollar collected, 95 cents goes to fund and deliver clean water programs. Efforts include sending water to Japan to aid in their post-earthquake water shortage, assisting the University of Wisconsin – Milwaukee's Engineers Without Borders in bringing water purification solutions to the highlands of Guatemala, supporting of a well/water tank project in Zambia, Africa, and the Bio Sand Filters project in Tanzania. A recent water project in Africa, provides a village of over 400,000 people first-time ongoing access to clean, safe water. To learn more, visit cannedwater4kids.org.
About Life Navigators: Founded in 1949, Life Navigators was formed by a group of parents who were committed to developing programs and educational opportunities for their children with intellectual and developmental disabilities. The mission of Life Navigators is to improve the quality of life for individuals with developmental and related disabilities, their families, and the community through information, education, advocacy and life planning services.
To learn more, visit lifenavigators.org