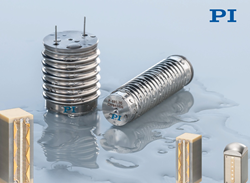 Auburn, MA (PRWEB) April 14, 2014
Auburn, MA. PI Ceramic multilayer piezo actuators (PICMA) are known for their outstanding performance and lifetime, passing 100 Billion Cycles of life testing for the Mars Mission.
Now, a new waterproof and oil-proof actuator version for harsh industrial environments is available. Encapsulated in a hermetically sealed stainless steel container also providing mechanical pre-stress, these industrial-class piezo linear drives are ready for the toughest applications.
In extreme operating conditions, where oil, splash water or continuously high humidity prevails, the hermetically sealed container with its inert-gas filling protects the piezoelectric ceramics.
Specs & Datasheets of the waterproof and oilproof piezo actuators.
For highly dynamic, high frequency motion, yet another version optimized for maximum heat dissipation is available. Here, a special heat conducting compound that does not impair the actuator displacement replaces the inert gas filling. The stainless steel casing is ideal for additional cooling measures with water or compressed air. Longterm working frequencies up to 10 times higher compared to a conventional actuator (without the heat conducting compound), are feasible, for example up to 3.5 kHz full travel with the P-885.95, 36 µm actuator.
About the PI Ceramic / The PI Group.
PI Ceramic is a global leader in the field of high performance electro-ceramics for actuator and sensor applications. The broad range of expertise in the complex development and manufacturing process of functional ceramic components combined with state-of-the-art production equipment ensure high quality, flexibility and adherence to supply deadlines. Prototypes and small production runs of custom-engineered piezo components are available after short processing times. PI Ceramic is a division of the PI (Physik Instrumente) piezo and nanopositioning products group. The company has been ISO 9001 certified since 1994 and provides innovative, high-quality solutions for OEM and research. PI is present worldwide with 10 subsidiaries, R&D / engineering on 3 continents and total staff of 750+.