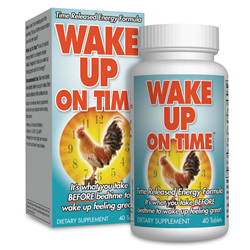 Wake Up On Time is so much more than a vitamin, it's time in a bottle.
Sparta, NJ (PRWEB) April 15, 2014
Rise-N-Shine LLC, the maker of the natural supplement Wake Up On Time, will help re-energize moms this Mother's Day.
Wake Up On Time is the missing secret ingredient to every busy moms' day that will help her regain her lost energy and still keep her World's Greatest Mom title. This revolutionary supplement is a proprietary blend of B vitamins, Amino Acids, Guarana Seed Extract and Siberian Ginseng that are geared to address the psychological and physical reasons why people have trouble getting out of bed in the morning. The magic behind the pills is the special coating over the tablet, which delays the initial release of the ingredients. The coating dissolves 6-8 hours after the pill is taken, leaving its benefits to be delivered when needed most; when the alarm clock rings.
In honor of the 100th anniversary of Mother's Day Wake Up On Time has announced that it will give customers a free bottle of Wake Up On Time with all orders from now until Mother's Day. The promotion can be redeemed online at wakeupontime.com by simply entering the promo code MyGift.
Please visit wakeupontime.com for more information.