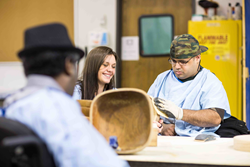 Work helps us all expand our skills, improve our health, and feel valued, respected, connected to others, and satisfied with all we do. At InPro, our goal is to make that possible for everyone. Joseph Richert - President
Wayne, MI (PRWEB) May 12, 2014
InPro Enterprises is a non-profit organization whose cutting-edge programs have a significant effect on people with brain injuries and other major disabilities. InPro has found a comprehensive approach to help the severely disabled ease back into the workforce.
The idea to help people with disabilities find a way to get back into the workforce came about four years ago by the leadership team at Special Tree Rehabilitation System. For over 40 years, Special Tree has been successful in improving quality of life for the severely injured community. Special Tree has been a leader in the community for their therapeutic approach to strengthening the whole person, mind, body and spirit. The leadership team carried this philosophy into the launch of an organization that helps these people with disabilities get back to work using innovate vocational programs, Inpro Enterprises.
At InPro, individuals work one on one with a Certified Rehabilitation Counselor who helps them identify their strengths and capabilities. The team provides creative rehabilitation programs through employment and community-based therapeutic services.
There are several hands-on programs offered that deliver impressive results. Among them are a greenhouse that provides a year-round opportunity to grow produce, herbs and flowers, an industrial operations center and a creative arts and antique restoration studio. The new InPro website exhibits this artistic craftsmanship on the Products page. An art gallery is also being installed to further showcase the impressive works of art our clients are creating.
InPro has found tremendous demand for the services they can offer to the automotive and manufacturing industry. InPro has been fortunate to work with companies like Lumecon, General Motors and Hancock Enterprises. They have provided innovative business solutions for these companies, some of which had been sending work out of the country. Now, those jobs have been brought back to Michigan and a segment of the population who was struggling to find work is feeling pride in having a meaningful job. Through InPro's operations center, workers put together parts for rain gutters, connect wire harnesses and wash and inspect safety glasses.
The future looks promising for InPro Enterprises. As Joe Richert, President/CEO of Special Tree Rehabilitation Systems and Chairman of Brain Injuries Association of America sums it up, "Work helps us all expand our skills, improve our health, and feel valued, respected, connected to others, and satisfied with all we do. At InPro, our goal is to make that possible for everyone."
Please visit our website at: http://www.inproenterprises.org/ to learn more about what InPro Enterprises has to offer. While you're there, check out our Products page where you can view and purchase the artwork created by our clients in the art studio. To arrange a tour of the facility and industrial training center, please contact Sarah Randall at (734) 893-1137 or SarahRandall(at)specialtree(dot)com.
About InPro Enterprises:
A non-profit foundation, InPro is a member of the Michigan Association of Rehabilitation Organizations (MARO), a United States Government SourceAmerica/AbilityOne Program affiliate, and is sanctioned by the State of Michigan as an approved provider for worker's compensation. Special Tree is ISO certified for manufacturing. InPro Enterprises, Inc. 3990 Second Street Wayne, MI 48184