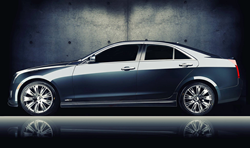 The Penske organization is an exceptional dealership group and this location further establishes Vogue's growing presence in the Southern California market.
Mount Prospect, Illinois (PRWEB) April 16, 2014
Vogue Tyre & Rubber Co. has opened its 17th Custom Center location at Penske Cadillac Buick-GMC in Torrance, California.
Penske Cadillac is the largest Cadillac dealer on the west coast and has won the prestigious General Motors Dealer of the Year for the past four years. Penske Cadillac, Buick-GMC will now provide its customers with the ability to personalize their new and pre-owned vehicles with the latest custom-made tires, wheels, and accessories from Vogue.
"We are excited to have the opportunity to work with Penske Cadillac-Buick-GMC in Torrance and the Penske organization," said Vogue Tyre President Greg Hathcock. "They are an exceptional dealership group and this location further establishes Vogue's growing presence in the Southern California market."
About Penske Cadillac Buick-GMC:
Penske Cadillac Buick & GMC of South Bay is a Southern California Penske Dealership. As one of the premier dealerships in the country, Penske Cadillac Buick-GMC serves the cities of Torrance, Long Beach, Huntington Beach, Los Angeles, Anaheim and many surrounding cities. With over 500 vehicles in inventory there is always an exceptional selection of vehicles to choose from.
Penske Cadillac Buick-GMC's primary concern is with satisfaction of its customers throughout the ownership experience. That is why we have invested in a world-class facility that includes over 40 service bays to meet your needs in a timely manner. Employing only ASE and GM Certified Technicians including two GM World Class Technicians you can be confident in the safety and performance of your vehicle.
Penske Cadillac is proud to be part of the Southern California community and enjoys the opportunity to give back. As sponsors of the local U.S. Marines Toys for Tots, Huntington Beach Little League and many other charitable contributions Penske Cadillac Buick-GMC is committed to our community.
-
About Vogue Tyre:
The Vogue Tyre and Rubber Company's tradition for providing custom luxury tyres for the most discerning customers has been leading the automotive aftermarket industry for 100 years. Vogue Tyre has been at the cutting-edge of performance design and technology and continues to provide customers with a distinctive tyre with outstanding performance.
Vogue Tyres has set industry standards and continues to raise the bar in this competitive industry. Known for inventing the whitewall tyre design back in 1914, Vogue has become the tyre of choice for high-end vehicles and the discriminating motorists including celebrities and professional athletes.
Today, Vogue Tyre has remained a leader in vehicle customization by providing custom tyres, wheels, and accessories through new car dealerships, select tire dealers, and company-operated custom centers. Being at the forefront of new trends and design, Vogue Tyres was the first to introduce an 18" and 20" whitewall and gold stripe tire for use on passenger cars. The new Signature V line of ultra high-performance all-season tyres continues in this tradition. Long known as the tyre of choice for Cadillac owners, Vogue has branched out to include a wide range of applications for today's market, including fitments for Lexus, Infiniti and Mercedes. Vogue Tyres are designed to provide exceptional performance and handling as well a distinctive appearance. Vogue's complete product line can be seen at http://www.VogueTyre.com or visit us on Facebook.