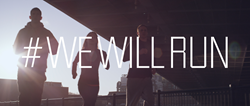 "The media, in reality has created the tribute, by sharing this video story" JJ Miller
Boston, MA (PRWEB) April 15, 2014
With only a week to the 118th Boston Marathon, the entire city, country and world's focus continues to grow to watch this great event which brings so many people together globally. Local Boston photographer and director JJ Miller produced a video #WEWILLRUN sharing a story of this year's marathon that demonstrates resilience and perseverance. Released 2 weeks ago as a tribute has since gone Viral. "The marathon has always been something that brings the entire city together, whether you're a runner or a spectator," said Miller. "We felt that by creating this video we could deter the negative things that surround last year's marathon and could encourage people to rally around this one memorable event and bring this city together again."
Boston is preparing for the biggest Patriot's Day in history, as 9,000 additional runners have registered to race, totaling 36,000. The Boston Athletic Association projects up to 1 million spectators will cheer the racers from around the world.
The narration affirms that "this is not a shoe commercial. It's not a clothing commercial, either. It's a story about a city. A city that was built by rebels." Featuring aerial views of the iconic Boston streets and historic Fenway Park, the video captures the atmosphere of the city.
Miller stated that "the intention of this video was to be on social media as a tribute, as well as an inspiration for the runners and spectators this year". The media, in reality has created the tribute, by sharing this video story. We thank everyone for helping build the community's spirit.
JJ Miller Photography is a specialized photography studio / video production company located in Boston Massachusetts. To see more work by JJ Miller Photography, visit http://www.jjmillerphotography.com. 508-740-8448