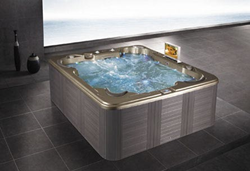 (PRWEB) April 15, 2014
Today, XC Spa, a reliable outdoor Spa product manufacturer and wholesaler, announces that they are attending the 115th Canton fair, and welcomes all current and potential customers to make an appointment to talk about business.
The outdoor spa pools from XC Spa are very popular worldwide. With these professional equipments, users can experience a sublime hydrotherapy massage. The company has launched a special offer on all its outdoor Spa pools for the summer 2014.
The CEO of BothBest says, "The Canton Fair is a key component in the global trade engine, and many of our customers know our company at this trade show. We are excited to meet more friends there. XC Spa is a place that you can enjoy one-stop Spa product shopping experience there."
XC Spa has introduced the main functions of its outdoor Spa:
--Relaxes tired and aching muscles
--Relieves joint and muscle pains
--Improves circulation
--Burns calories
--Helps keep skin healthy
--Rapid relief for arthritis and rheumatism
--Relieve stiffness and relaxes the body
XC Spa specializes in designing and manufacturing high quality Spa products, and its innovative Spa products have brought much fun to its clients worldwide. The company has a commitment to become the world's leading brand in the Spa industry.
About XC Spa
XC Spa is a ISO9001:2000 certified company offering a wide range of Spa products, especially hot tubs, outdoor spa and swimming spa tubs. The company's products go through a strict quality-control process, and they are resistant to weathering, warping and scoffing. Premium product quality and great customer service are the reason that their products are widely recognized by the customers worldwide.
For more information, please visit: http://www.xcspa.com/outdoor-spa/