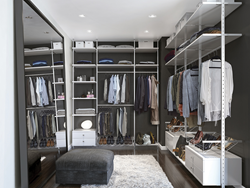 California (PRWEB) April 16, 2014
Originally launched in Europe, the innovative new storage system Flex from space-pro is now available from west coast Lowes stores.
Flex posts come in contemporary silver with white melamine accessories in two widths of 21.75" (550mm) and 35.5" (900mm). As with all our interior solutions, the Flex range is easy to create, versatile and practical.
The Flex modular storage system is "space intelligent" as it allows you to move or add components as your storage needs change. Simply start with the telescopic posts and then choose the components using brackets that are available separately.
So, with all this storage space available, it just means one thing - hitting the shops to invest in some new clothes to fill your closet.