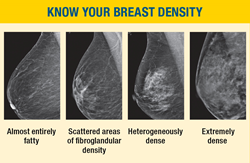 This diagnostic technology is a significant advancement in detecting the smallest tumors in women with dense breast tissue.
Williamsport, PA (PRWEB) April 16, 2014
Susquehanna Health's (SH) Kathryn Candor Lundy Breast Health Center now offers new technology in the form of 3D mammography (Tomosynthesis) to enhance early detection and treatment of breast cancer, particularly in women with dense breast tissue.
Breast density describes the amount of breast and connective tissue in relation to the amount of fat and is divided into four categories: 1) entirely fatty 2) minimally dense 3) moderately dense and 4) extremely dense. The risk of developing breast cancer is said to be higher for women with dense breasts. Since dense breast tissue and cancer both appear as white on a mammogram, cancer can easily be masked by surrounding dense (white) tissue and the mammogram may be more difficult to interpret.
Enacted in February 2014, Pennsylvania's new Breast Density Notification law now requires healthcare providers to inform women about the density of their breast tissue to raise awareness of breast density and encourage women to discuss future screening options with their physician. The information on breast density will be included in letters issued to patients following a mammogram.
Although traditional mammography is effective for regular screenings, tomosynthesis is believed to be a more thorough approach for women with moderate to extremely dense breast tissue due to multiple camera angles and increased number of images (15 pictures in 4 seconds). Images captured by 3D mammography can be analyzed in millimeter layers that compose a 3D image of the breast, increasing visibility of small tumors.
This new technology is advantageous to women with dense breast tissue because it increases the potential for earlier detection of breast cancer while reducing the call-back rate for additional testing, false-positive results and invasive testing. "Early detection gives our patients the best possible advantage in breast cancer treatment," said SH Radiologist Dr. Hanae Bahr. "This diagnostic technology is a significant advancement in detecting the smallest tumors in women with dense breast tissue. It essentially puts all women on the same playing field in terms of the sensitivity of the mammogram exam."
Women 40 years of age and older are encouraged to have annual mammograms. Those with dense breast tissue or who know they are at higher risk for breast cancer may benefit from 3D mammography and should request a referral from their physician.
For more information on Susquehanna Health's Breast Health Center call 570-326-8200 or visit SusquehannaHealth.org/Breast.
###
About Susquehanna Health
Susquehanna Health is a four-hospital integrated health system including Divine Providence Hospital, Muncy Valley Hospital, Soldiers + Sailors Memorial Hospital and Williamsport Regional Medical Center located in North Central Pennsylvania. Serving patients from an 11-county region, Susquehanna Health is a healthcare leader and has been recognized at the national and state levels for quality of care. Susquehanna Health offers a wide array of services that include cancer care, heart and vascular care/heart surgery, neurosciences including neurosurgery, orthopedics, urology, OB/GYN, gastrointestinal services, behavioral health, physical rehabilitation, home care, long term care, assisted living and paramedic/ambulance services.