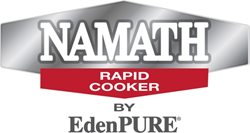 Norwalk, CT (PRWEB) April 15, 2014
From cologne to Lazy Boy® to pantyhose, Joe Namath has been the successful spokesperson for numerous brands and products so it's no surprise to see he is at it again with the Namath Rapid Cooker by EdenPURE®. Unlike some of Namath's other advertising successes, however, the Namath Rapid Cooker is a product that he and his cousin, Chef Jon Molnar created together.
Using a football legend like Namath to tout a portable, tailgate-ready infrared grill seems like a logical choice but labeling the Namath Rapid Cooker as a tailgating product would be selling it short: "One of the great things about this product is that you can use it just about anywhere: home, camping, tailgating, wherever you want…," said Chef Jon Molnar, the driving force behind the Namath Rapid Cooker. "It's a product that's meant to replace whatever old, inefficient grill you're using now."
Molnar's reference to other grills as being "inefficient" stems from the Namath Rapid Cooker's use of what he and Namath have termed as PureINFRARED Technology™. "When your flame is on the bottom, like it is with other grills, you get grease dripping down and causing flare-ups. That burns the meat and gives you an uneven cooking experience," explained Molnar.
-more-
Namath Rapid Cooker: 2 of 2
"With the Rapid Cooker," he continued, "the flame is on the top, giving you an even cook without any flare-ups." Additionally, the propane-powered Namath Rapid Cooker has nine different zones of heat, allowing consumers to select anything from a perfect sear to a warm melt.
This will be Namath and crew's second appearance at the National Hardware show: May 6th through the 8th. If last year's award of "Show Winner" was any indication of the level of interest show-goers can expect this year, Namath and Molnar will be stealing the show again. "Every time we go somewhere with Joe," Molnar continued, "he brings a new level of excitement." National Hardware Show attendees can visit Joe Namath, Jon Molnar and the rest of the EdenPURE® crew inside at booth 4206 or outside at booth TG-600 for a free demonstration, complete with samples. For more information, visit the National Hardware Show's website at http://www.nationalhardwareshow.com.
# # #