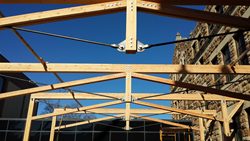 PERMALAC clearcoat lacquer was chosen for this project because it cures hard, strong and in no way alters the apearance of any substrate.
Philadelphia, PA (PRWEB) April 17, 2014
The exposed ASTM 36 steel trusses and tubular steel X-bracing in the new wing of the University of Kansas School of Architecture look great right now, but what about the future? Without the comprehensive protection provided by PERMALAC(tm) clearcoat lacquer, corrosion and UV could compromise the building's appearance within a matter of months.
This product, manufactured by Peacock Laboratories in Philadelphia, was chosen for a number of reasons. It cures hard, strong and will not permit corrosion and UV to attack the surface of the steel. At the same time it in no way alters the appearance of any substrate so the steel will always look like raw steel. Because of this the Studio 804 graduate students are able to display the muscularity of the building infrastructure so essential to the original design concept.
In addition, PERMALAC goes on smoothly and self levels. Should drips or pools develop, a quick over spray of additional PERMALAC will immediately level the area out. A high viscosity means the spray comes out in an extremely fine mist enabling curing to take place in minutes. This can save users major wait time between applications.
The Studio 804 program is available only to students in the final year of studies towards a University of Kansas Masters degree. In the program they take full responsibility for a building project from original design concept to final nail. The program calls for doing all the basic construction work and overseeing every detail. As for PERMALAC, they will also use it to coat the rolled steel floor they have specified for the addition.
For more information on Permalac contact Jack Kerins at Peacock Labs: 215-729-4400, or visit http://www.permalac.com.