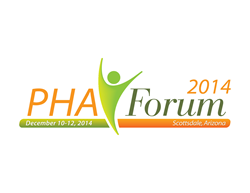 We expect a great number of applications. This is not a pay to play opportunity. The labs are based on a set of criteria and will have to fit in one of the topics of interest to PHA.Karen Moseley, PHA Director of Research
Washington, D.C. (PRWEB) April 16, 2014
The Population Health Alliance announced today that it is accepting applications for the Walking Learning Labs to be held at the exhibit hall of the PHA Forum 2014. The Labs will further integrate the scientific sessions with the interactive experience of the Solutions Zone, while highlighting the research efforts and outcomes of exhibitors, during the organization's annual meeting, to be held December 10-12, in Scottsdale, Arizona.
An exclusive opportunity for exhibitors, the Walking Learning Labs will help attendees navigate The Solutions Zone, the exhibit hall reinvented for engagement, as an insider who will be guided to find the answer to some of the questions posed by each of the labs' topics. Last year, the first time they were offered, the registration for the Labs greatly exceeded capacity.
"In 2013, our exhibitors jumped at the opportunity to participate in the Walking Learning Labs and they were an unqualified success for companies and attendees alike," said Karen Moseley, PHA Director of Research. "We expect a great number of applications. This is not a pay to play opportunity. The labs are based on a set of criteria and will have to fit in one of the topics of interest to PHA."
The Walking Learning Labs were conceived as a way to make visible the connection among the PHA's research agenda, the products, programs and initiatives of our members, and the most exciting and innovative work in the industry.
"These will be very hands-on labs in a small group setting. The exhibitors will have to bring their best game, because the people who register for the labs show strong interest and knowledge of the topics. We believe it is an unparalleled opportunity, and that's why it has been so enthusiastically received by exhibitors and attendees alike," said Moseley.
This year, the Walking Learning Labs topics are:
1. Employers: Population Health Management for YOUR population
2. ACOs: Population Health Management for YOUR population
3. Engagement again! So, how do we do it?
The application process for the Walking Learning Labs is now open. The Walking Learning Labs are free to attendees but are on first come first served basis, and limited availability. Members of the media can request free press credentials.
The Solutions Zone Walking Learning Labs.
# # #
About the Population Health Alliance
The Population Health Alliance (PHA) is a global trade association of the population health industry. Its more than 80 members represent stakeholders from across the healthcare delivery system that seek to improve health outcomes, optimize medical and administrative spend, and drive affordability. Through its robust advocacy, research and education initiatives, the PHA offers members a forum to advance shared learning and applied research to further innovation and establish best practices in the population health field. Visit http://www.populationhealthalliance.org to learn more and get ready to attend the PHA Forum 2014, in Scottsdale, Ariz., on December 10-12, 2014.