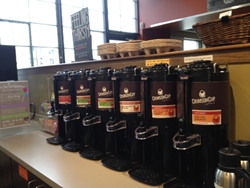 We believe Johnson's and Crimson Cup are great local brands that will fit very well in our market. - Kelly Holmes, The Hills Market Downtown
Columbus, Ohio (PRWEB) April 16, 2014
Just a year after opening in its Discovery District home, The Hills Market Downtown is adding a new Scoop Shop and Coffee Bar to its Café and Bakery. The Scoop Shop will serve up flavors of Johnson's Real Ice Cream, while the Coffee Bar will brew hot and cold beverages from Crimson Cup Coffee & Tea. Beginning on the store's April 18 anniversary, the new shops will be open Monday through Friday, 7 a.m. to 9 p.m. and weekends, 8 a.m. to 8 p.m. at 95 N Grant Avenue in Columbus.
"During this past year, it has been our pleasure to partner with other local businesses as we became part of the vibrant downtown community," said Kelly Holmes, marketing director. "We are excited to partner with Johnson's Real Ice Cream and Crimson Cup Coffee & Tea for our newest collaborations."
At the Scoop Shop, downtown customers can enjoy cones and cups of locally made Johnson's Real Ice Cream. In addition to traditional favorites such as chocolate and vanilla, the shop will feature Johnson's Columbus Collection flavors made with ingredients from Columbus companies such as Crimson Cup, Just Pies and Sugardaddy's Sumptuous Sweeties. The collection's coffee-flavored Signature Mocha melds Crimson Cup's Armando's Blend coffee with white chocolate curls and caramel. Customers can enjoy ice cream in cups, sugar cones and chocolate-dipped waffle cones.
"Johnson's Real Ice Cream has been a staple in the city of Bexley, serving a loyal customer base for over 60 years," Holmes said. "This makes for a perfect partnership in our downtown store."
The Coffee Bar will brew six varieties of locally roasted Crimson Cup coffee each day, including The Hills House Blend, a smooth, slightly sweet signature blend. Eight premium loose-leaf teas from Crimson Cup will also be available. In the warmer months, customers can cool off with iced Hills House Blend and organic green and black iced teas.
"We believe Johnson's and Crimson Cup are great local brands that will fit very well in our market," Holmes said. "We are excited to expand our relationships to promote local foods and beverages."
About The Hills Market
The Hills Market recently celebrated their 20th anniversary at their Worthington location this past Fall. Hills opened in 1993 on Olentangy River Road in Worthington, at the foot of the Worthington Hills neighborhood. The Hills is a locally owned grocery store with two locations serving Central Ohio. Hills Market provides the best of Ohio and beyond, with high-quality meats, seafood, produce, bakery, wine, beer and cheese departments. Hills offers custom in-house prepared foods, a delicatessen featuring made-to-order sandwiches and pizzas, full-service catering and a grocery delivery service. The Hills is known for special events, including $5 Pancake Breakfasts, Charity Happy Hours, Pop- Up restaurants and countless wine and beer tastings.
About Johnson's Real Ice Cream
On September 1, 1950, founders Robert N. Johnson and son-in-law James Wilcoxon opened the doors of Johnson's Real Ice Cream at 2728 East Main Street in Bexley, Ohio. Together, they developed the handcrafted ice cream recipes that became the foundation for the oldest continually operating ice cream shop in central Ohio. Since then, Johnson's has expanded to more than 80 flavors of ice cream, available at its retail shop and through restaurants and grocery stores. Today, Jim Wilcoxon Jr. and his son Matt Wilcoxon provide the third and fourth generation of family management for the retail operation and ice cream factory. For more information, visit johnsonsrealicecream.com.
About Crimson Cup Coffee & Tea
Since 1991, Crimson Cup Coffee & Tea has hand-roasted specialty coffee in Columbus, Ohio and taught independent business owners how to be successful through its coffee shop franchise alternative program. Sustainably sourced Crimson Cup coffee is available through a network of more than 350 independent coffee houses, grocers, college and universities, restaurants and food service operations across 28 states, as well as the company's own Crimson Cup Coffee House in the Columbus suburb of Clintonville. For more information, visit crimsoncup.com.