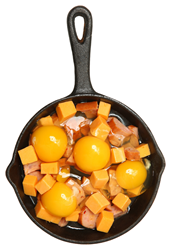 London (PRWEB UK) 16 April 2014
In a bid to reduce obesity, many popular diets such as the Paleo or Atkins diet have been used excessively by some, with various levels of success. Research on the effect of such diets has been inconclusive and at times controversial, due to the vast variety in ages, ethnic backgrounds, medical history and circumstances of the volunteers.
It has been noted that diets high in protein, especially animal proteins such as red meat and cheese, can increase the development of chronic health problems by 74%, including instances of high cholesterol, diabetes, and cancer. This risk seemed to increase with age, affecting those in middle-age the most, while making little difference to the health of the elderly.
Scientists at the USC Davis School of Gerontology and led by the Edna M. Jones Professor of Biogerontology, Valter Longo, zeroed in on IGF-I, the human growth hormone that is specifically controlled by absorption of animal proteins and a known trigger for cancer, to see how high consumption of protein affected the biology of the body over the human lifespan.
The study shows that while high protein intake during middle age is very harmful, levels of IGF-I drop off dramatically after age 65, leading to potential frailty and muscle loss and those who ate a moderate- or high-protein diet were less susceptible to disease.
Across all 6,318 adults over the age of 50 in the study, average protein intake was about 16 percent of total daily calories with about two-thirds from animal protein -- corresponding to data about national protein consumption. The study sample was representative across ethnicity, education and health background. Crucially, the researchers found that plant-based proteins, such as those from beans, did not seem to have the same mortality effects as animal proteins.
The researchers define a "high-protein" diet as deriving at least 20 percent of calories from protein, including both plant-based and animal-based protein. A "moderate" protein diet includes 10-19 percent of calories from protein, and a "low-protein" diet includes less than 10 percent protein. http://bit.ly/1osESM5
Longo's co-author Eileen Crimmins, the AARP Chair in Gerontology at USC supports recommendations from several leading health agencies, including Chemist Direct, for 0.8 grams of protein per kilogram of body weight every day throughout middle age.
For example, a 130-pound person should eat about 45-50 grams of protein a day, with preference for those derived from plants such as legumes, soy or whey products. Even though the rates of cancer and mortality did not seem to be affected by carbohydrate or fat consumption it is still recommended not to over indulge in these food groups to maintain good health.
This latest paper was published in the March issue of Cell Metabolism (http://bit.ly/1q5UzfX) and draws from Longo's past research on IGF-I, including on an Ecuadorian cohort that seemed to have little cancer or diabetes susceptibility because of a genetic mutation that lowered levels of IGF-I; the members of the cohort were all less than five-feet tall.