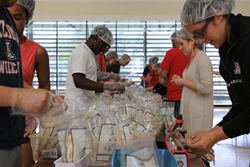 Boca Raton, FL (PRWEB) April 16, 2014
Stop Hunger Now, Florida Atlantic University and LexisNexis Risk Solutions are joining forces in the fight against hunger. More than 1,000 volunteers will package meals for the world's hungry on April 19, 2014, at Florida Atlantic University's Recreation and Fitness Center at 10:00 AM. Stop Hunger Now meal packaging events are a volunteer-based program that coordinates the streamlined packaging of highly nutritious dehydrated meals comprised of rice, soy, vegetables, flavoring, and 21 essential vitamins and minerals.
"I am truly inspired by Stop Hunger Now and their mission to end world hunger," says Vadine Eugene, FAU Student. "They provide a great opportunity for FAU and the surrounding communities to come together and make a difference in the world. The meal packaging experience is unparalleled and generates a spirit of empowerment among our community. Our continuous partnership with Stop Hunger Now and LexisNexis has really sparked this annual tradition at FAU."
Around the world, more than 868 million people lack adequate food and more than 25,000 die each day from hunger-related illnesses. Stop Hunger Now operates meal packaging locations in 18 cities throughout the U.S. and international locations in South Africa and Malaysia. New locations opened in 2013 include Dallas/Fort Worth, Salt Lake City and Italy. More than 300,000 volunteers from corporations, churches, schools and civic organizations have packaged Stop Hunger Now meals.
Founded in 1998, Stop Hunger Now has delivered aid and disaster relief supplies in the form of food, medical supplies, clothing, school supplies, and more to thousands of disaster victims and other hungry and vulnerable people in 65 countries.
"Stop Hunger Now's meal packaging program provides students with an opportunity to learn about hunger and develop a heart for service," says Christine Galenski, Community Development Director for Stop Hunger Now. "It teaches the students about leadership and develops a foundation for future involvement in global issues."
"We are excited to partner with Florida Atlantic University and Stop Hunger Now to continue our tradition of giving back to the community and ending world hunger," said Don Welsko, Executive Vice President, Human Resources and Corporate Communications, LexisNexis.
Florida Atlantic University joins forces with LexisNexis on Saturday, April 19th, for their 2nd Annual Meal Packaging Event. Their goal is to not only package over 100,000 meals, but to educate FAU Students alongside of the community about hunger and the importance of giving back.
For more information contact Katie Burke Associate Director of Student Involvement & Leadership at (954)593-4014.
In 2013 Stop Hunger Now celebrated its 15th anniversary and its ongoing work to create a movement to end hunger. More than 138,000,000 meals have been packaged and distributed with other life-saving aid to 65 countries impacting millions of lives.
The organization is driven by a vision of a world without hunger and a mission to end hunger in our lifetime by providing food and life-saving aid to the world's most vulnerable and by creating a global commitment to mobilize the necessary resources.
In its efforts to respond to emergency needs around the world Stop Hunger Now receives and distributes significant donations of in-kind aid. These donations are large quantities of food, medicines, medical supplies and other such items as may be of use in fighting hunger and providing relief in a crisis.
About LexisNexis Risk Solutions
LexisNexis Risk Solutions is a leader in providing essential information that helps customers across all industries and government assess, predict and manage risk. Combining cutting-edge technology, unique data and advanced analytics, LexisNexis Risk Solutions provides products and services that address evolving client needs in the risk sector while upholding the highest standards of security and privacy. LexisNexis Risk Solutions is part of Reed Elsevier, a world leading provider of professional information solutions.