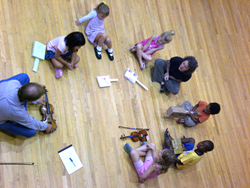 I'm thrilled to be able to offer this harp experience to those who are willing to try.
Toledo, OH (PRWEB) April 18, 2014
The Toledo Symphony School of Music is offering summer classes, ensembles, and private lessons for musicians of all ages and abilities in the Greater Toledo area.
New this summer is the Harp Fantasy Camp, three evening classes for students ages fifteen and older. TSO principal harpist Nancy Lendrim will lead the workshop. Ms. Lendrim first heard the sound of the harp when she was eight years old.
"I was mesmerized by the music it made, as well as by the physical beauty of the instrument. 'Ahhh,' I thought. 'That is the instrument for me.' I'm thrilled to be able to offer this harp experience to those who are willing to try, and to help every participant have their own 'Ahhh!' moment."
Participants will learn the fundamentals of this oldest of instruments with the goal of performing a simple duet with Ms. Lendrim by the end of the workshop. A harp will be provided for each participant. Enrollment is limited, so early registration is encouraged.
Also new this summer are the Flute Choir, Beginning Flute Choir, Clarinet Choir, Cello Ensemble, and Vivace! Fiddlers classes. Musicians of all ages are invited to join these ensembles, each of which will prepare and perform a concert at the Toledo Zoo. TSO clarinetist Jocelyn Langworthy will conduct the Clarinet Choir. TSO violinist and TSSM violin instructor Cheryl Trace will lead the Vivace! Fiddlers class. Cellist Aileen Rohwer, new to the TSSM faculty, will lead the Cello Class. TSO flutist and TSSM flute instructor Amy Heritage will conduct the Flute Choir.
Ms. Heritage says, "There are so many excellent amateur musicians active in school and community ensembles in our area. It was great fun working with some of them this winter during the Toledo Symphony's Pro-Am event. We are excited to build on the success of that concert with these performances at the zoo. I'm looking forward to bringing together all of the terrific flutists in our community and filling the zoo amphitheater stage with flutes, piccolos, alto, and bass flutes." Rehearsal schedules and performance level requirements vary for each ensemble and can be viewed on the Toledo Symphony website.
Private lessons in violin, viola, cello, flute, harp, and piano are also available during the summer. More information and registration materials are available online at toledosymphony.com.
There is no official deadline for enrollment, but students are encouraged to enroll as soon as possible to reserve a spot and receive their TSSM Summer Class t-shirt. Any questions should be directed to tssm(at)toledosymphony(dot)com.