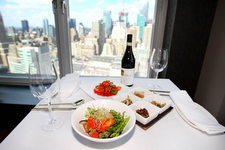 Sea Squirt Bibimbap known as Munggae Bibimbap in Korean is a delicacy that can only be made with the freshest sea squirts that are of season
New York, NY (PRWEB) April 18, 2014
Gaonnuri, an upscale Korean restaurant acclaimed for its amazing cuisine and an astonishing view of Manhattan, is proud to introduce Sea Squirt Bibimbap and Spring Tasting Menu. Gaonnuri's new Spring Tasting Menu is available in a lunch and a dinner course menu. The dinner menu will serve seven course taste of A Special Spring: three appetizers of Cucumber Mushroom Salad, Modum Jun (Korean Pancake Sampler), and Japchae, (Stir Fried Glass Noodles With Beef), two entrées of Red Snapper Jjim (Braised and Marinated) and Marinated Galbi Gui (Marinated Prime Beef Short Rib), and Gaonnuri's signature Spring Rice dish of Sea Squirt Bibimbap (Mixed Rice with Sea Squirt, Seaweed Salad, Cucumber, Capelin Roe and Micro-Green), and a dessert of your choice.
Sea Squirt Bibimbap known as Munggae Bibimbap in Korean is a delicacy that can only be made with the freshest sea squirts that are of season so that it contains a sweet twist. Also sea squirts of season, which often are referred as 'Flowers of the Ocean' in Korea, contain more taurine, an amino acid that is good for preventing aging, fatigue, cold and asthma among other healthy benefits such as Vanadium which is good for Diabetes.
Sea Squirt Bibimbap is made with freshly handled sea squirt cut into pieces which is then placed on top of warm rice with an assortment of seaweed salad, cucumber, capelin roe and fresh Spring Micro-Green. The finishing touches of Cho Gochujang which is made from Gochujang (red pepper paste) and vinegar wrap the fresh flavors of Mountain and Ocean into one.
The word spring here is very important as herbs and vegetables that are picked in the spring are sweeter and softer to eat than fully grown greens in other seasons. Spring herbs and vegetables are helpful for drowsiness the spring season brings. It also fulfills all necessary vitamins such as calcium, iron and vitamin C. Korean ancestors enjoyed this dish as a healthy way to build stamina.
This mix of fresh spring sea squirts and greens create a balance in each bite to let you know spring is already here.
Bibimbap comes from the word Bibim (mix) and Bap (rice) and comes in many variations. This Sea Squirt Bibimbap is a popular choice in the spring as it cannot be found in any other season. This is considered a delicacy in Korea and a must try for foodies when they visit the famous Guhjeh Island where this dish originates from. The great news is this spring it is available at Gaonnuri in the middle of Manhattan.
About GAONNURI
Launched in 2012, GAONNURI is an upscale Korean bar and restaurant on the 39th floor penthouse of 1250 Broadway; it is the highest Korean restaurant in the world and the second highest in Manhattan. For more information, please visit http://www.gaonnurinyc.com/ or https://www.facebook.com/GAONNURINYC.