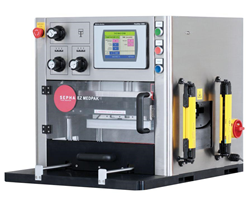 'Sepha is focusing on innovation, by investing in new technologies and developing our product offering in line with market demand.' [Paul Kelly, Head of Sales & Marketing at Sepha]
Belfast, Northern Ireland (PRWEB) April 17, 2014
'BottleScan', the world's first tool-less, non-destructive leak detection instrument for testing multiple induction-sealed bottles simultaneously will receive its European debut at Interpack, Dusseldorf in May 2014. It incorporates force decay technology to test induction-sealed bottles for holes and weak seals without destroying the contents. Ahead of Interpack, Bottlescan has already attracted orders from several of Sepha's Asian and North American customers.
'Press Out Universal Mini' is a low volume, rapid product change over deblistering unit that enables product to be recovered from all blister pack types, particularly child resistant, peel-able and senior-friendly packs. The unit has been developed to reflect changes in the pharmaceutical manufacturing market, where manufacturers are focusing on shorter runs of more bespoke, high value drugs in child resistant or senior-friendly blister packs.
The third new machine to debut at Interpack is 'EZ MedPak' which extends Sepha's 'EZ' range of low volume, package development units into the wider medical packaging market. It is aimed specifically at medical device and packaging development teams who want to take control of their own pack designs and develop bespoke packs for small devices and pre-filled syringes.
Commenting on these developments Sepha's Head of Sales and Marketing, Paul Kelly said, "Sepha is focusing on innovation, by investing in new technologies and developing our product offering in line with market demand. Our new equipment extends our range into new markets and will meet the changing demands of our global pharma clients. We look forward to showcasing these additions and to a successful Interpack."
The 3 new machines will be on demonstration alongside existing technologies such as Sepha's VisionScan and PakScan at Interpack HALL 16 BOOTH F23. Or alternatively visit Sepha's website to contact a sales advisor.
Sepha is part of the TASI Group, a world class manufacturer of leak test and measurement equipment. Recently Sepha has been recognized for its international marketing and exporting achievements with a number of awards including 'Exporter of the Year' and is doing business with many of the world's top pharmaceutical manufacturers. The machines are designed and built at Sepha's base near Belfast in Northern Ireland and exports them to over 60 countries worldwide.