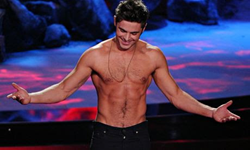 I think Zac looked great, did I think it was a little too dark and did I think there was some color differentiation yes I do. I think it was a little too dark..too much. - Dante Fitzpatrick
New York, New York (PRWEB) April 18, 2014
Inside Edition has reached out to Beach Bum Tanning, the tanning leader on the East Coast to weigh in on the current Zac Efron scandal.
This past weekend at the MTV Movie Awards Efron bared his chest for all of America to see. The image has since gone viral due to his ever so perfect bronzed body and chiseled physic.
"In our case what we like to do, is highlight and focus the parts of the body that you already have. As opposed to drawing on something you don't already have," says Dante Fitzpatrick, Director of Airbrush Design.
There is no doubt that Zac works hard to achieve his lean look, but he may have had some certain enhancement on this specific occasion.
"I think Zac looked great. Did I think it was a little too dark - and did I think there was some color differentiation? Yes I do. I think it was a little too dark.. too much."
Beach Bum Tanning & Airbrush Salon prides itself in their Airbrush Design. With over 150 different color combinations they can mix for any customer, the possibilities are endless. Beach Bum Tanning has over 50 locations throughout Connecticut, New York, New Jersey, Virginia and West Virginia. Click for video! http://bit.ly/1kYxyMk