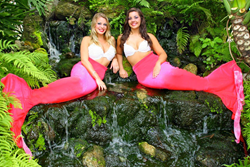 Charleston, S.C. (PRWEB) April 16, 2014
The World Famous Weeki Wachee Mermaids are inspiring and delighting visitors of all ages, but they are in the Lowcountry for only a few more days. The mermaids who are visiting from Weeki Wachee Springs State Park, are swimming amongst the sea life in the Aquarium's Great Ocean Tank, including sharks, for a truly unforgettable experience through April 20, 2014. Guests who have attended the interactive family-friendly program have been raving about the experience:
Stacy from Facebook:
"I was there, it is worth seeing! and you can get your photo taken with a real mermaid!"
Judy from Facebook:
"Now that is a great show! A lot of talent. Love this place!
@IllegalCheese on Twitter:
"Awesome day @SCaquarium with my family. Loved the lemur exhibit and mermaids - too fun!"
Tuesday, April 15, 2014 was one of the most attended days in South Carolina Aquarium history, with more than 5,500 guests enjoying the Aquarium and the World Famous Weeki Wachee Mermaid experience.
"We are witnessing the magic of mermaids this week," said Kevin Mills, president and CEO. "Their shows are incredibly fun and engaging, and our guests come away with a reminder of how we all need to care for our oceans."
During a visit to the Aquarium through April 20th, guests can take a photo with a mermaid and get hands-on with special interactive areas focused on conservation efforts to sustain the beauty of the ocean.
Hands-on guest experiences include:
-- Interactive education stations
-- Mermaid and pirate puppet theater
-- Mermaid and sailor craft area
-- Mermaid meet and greet
-- Mermaid photo opportunities
The World Famous mermaids of Weeki Wachee Springs State Park in Florida, have been a commercial success since the small-town park opened in 1947. Over the years, they have continued to delight visitors from all over the world, making dreams come true for believers of all ages. The performances at the South Carolina Aquarium are included with general admission. Be sure to mark your calendar to ensure this spring break you experience this enchantment under the sea. Call (843) 577-FISH (3474) or visit scaquarium.org for more information or to purchase your ticket in advance.
For all media inquiries, please contact Kate Dittloff at (843) 579-8660 or kdittloff(at)scaquarium(dot)org.
About the South Carolina Aquarium:
The South Carolina Aquarium, Charleston's most visited attraction, features thousands of amazing aquatic animals from river otters and sharks to loggerhead turtles in more than 60 exhibits representing the rich biodiversity of South Carolina from the mountains to the sea. Dedicated to promoting education and conservation, the Aquarium also presents fabulous views of Charleston harbor and interactive exhibits and programs for visitors of all ages.
The South Carolina Aquarium, a 501(c)(3) not-for-profit organization and is open Daily from 9 a.m. to 6 p.m. The Aquarium is closed Thanksgiving Day, half day Dec. 24 (open 9 a.m. to 1 p.m.) and Dec. 25. Admission prices are: Toddler's (3 and under) free; Youth (4-12) $14.95; Adults (13+) $24.95. The Aquarium plus the 4-D Theater experience is free for Toddler's, $19.95 for Children, $29.95 for Adults. The 4-D Theater experience only is $6.95 for Children and adults, and free for Members. For more information call 843-720-1990 or visit scaquarium.org. Memberships are available by calling 843-577-FISH.