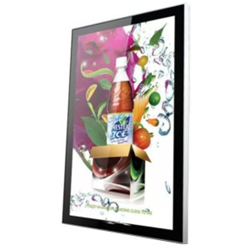 (PRWEB) April 18, 2014
Recently, Digital Signage China has launched its new 65 inch network digital signage system. According to the CEO of the company, their network digital signage players sell well in the market; the company hopes to expand its market share by a series of promotions.
The 65 inch network digital signage player supports MPEG1-4, MP4, MP3, JPG, AVI, H264, SMPTE, WMV and so on. The audio formats it supports include MPEG-1LAYERSI/II/III2.0, MPEG-4 AAC-LC 5.1, MPEG-4HE-AAC 5.1, MPEG-4 BSAC 2.0, WAV, etc. A senior engineer says that the 65 inch model supports a wireless network as well.
Here are some features of the model:
Easy to use digital signage package. The screen, media player and software communicate seamlessly.
Screen rated by the manufacturer for 50,000 hours of continuous use (that's over 7 years if never turned off).
Auto On/Off by schedule saves energy.
Powerful web-based presentation management software included for life.
The CEO says, "This all-in-one digital signage player includes everything you need for remotely managed digital signage. Includes auto On/Off and powerful management software. It comes with lifetime use of our sophisticated content and campaign management software without extra cost."
Digital Signage China specializes in the manufacturing and wholesale of high-end and middle-end digital signage players, enabling many companies worldwide across all business sectors to benefit from the power of digital media communication.
About Digital Signage China
Digital Signage China (Digital-Signage-China.com) is a well-known digital signage technology company with the eligibility of production, installation and maintenance of digital signage products. The company has much experience in the industry, and its customers are provided with the best resources and professional tips. For more information about the business and its digital players, visit http://www.digital-signage-china.com/