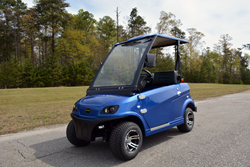 Greenville, SC (PRWEB) April 17, 2014
STAR EV (Brand of JH Global Services, Inc.) announces the launch of the new Star Personal Transport Vehicle (PTV). Designed primarily for on road (LSV) use, the ACcel is an attractive and responsive vehicle featuring an aggressive 7 HP continuous and 25 HP AC motor (DC motor optional) with all the safety features for road use including removable doors! The bold and aggressive appearance is matched by a very peppy drive train that will put your head back upon acceleration. The interior is designed with a car like look and features including speedometer, windshield wiper, sun visors, deluxe upgraded seating areas, automotive glass windshield, three point seat belts, lockable glove box, and two rear locking storage areas.
On mostly flat surfaces, the ACcel can go up to 60 miles or more on a single charge. The Star EV ACcel-AC was a featured product 2014 PGA Merchandise Show. Be on the lookout, a four passenger version will be launched the end of the summer 2014!
The STAR EV line includes over 40 varieties all-electric burden carriers, people movers, golf cars and street legal vehicles. The 10-year old company has grown rapidly by offering highly customized products with industry leading drive trains including Curtis Controllers, Advanced DC motors and Trojan deep-cycle batteries. STAR is represented and supported by over 200+ dealers along with other B2B relationships where service is in-house with multi-locations. Notable customers include: U.S. Airways, Delta Airlines, 100+ Government entities through two GSA schedules, Ritz-Carlton, 75+ public and private Universities, Boeing, GE, Wyndham Resorts, BMW, Waldorf Astoria, and many more.
The ACcel personal transport vehicle can be purchased from any of STAR EV's 200+ dealers. You can use the dealer locator and check out the ACcel brochure at http://www.starev.com.
For press questions, please contact Joe Wallington, VP-Sales and Marketing.