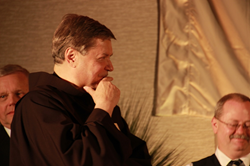 He's made the trip more times than he can count. And he's making it again.
New York, NY (PRWEB) April 19, 2014
He's made the trip more times than he can count. And he's making it again.
Fr. Peter Vasko, ofm, is president of the Franciscan Foundation for the Holy Land. He will departing for Tel Aviv from New York on Saturday, April 19 after celebrating Good Friday services with his fellow friars.
The FFHL is a Christian non-profit charged by the Franciscans of the Holy Land with supporting the mission to preserve the Christian presence in the Holy Land by raising funds in the United States and throughout North America. Those funds support fourteen programs and thousands of Arab Christians throughout the Holy Land who count on the Franciscans for assistance with everything from university scholarships to home repairs.
During Fr. Peter's U.S. visit, he traveled to eleven states and twice as many cities. According to Richard Sontag, director of public relations for the FFHL, "hundreds of thousands of dollars were raised" from Fr. Peter's efforts. Two benefit dinners alone during his visit raised over $200,000, Sontag said.
Fr. Peter will resume his duties in Jerusalem upon his return. "We've been in existence for twenty years," Fr. Peter said. "We've raised millions of dollars to support Christian Arabs in the Holy Land. Many good people have been very generous. We're hoping for even more generosity during the commemoration of our 20th anniversary this year."
For questions or donations, please contact the FFHL at (317) 574-4191 or (866) 905-3787 or visit http://www.ffhl.org.