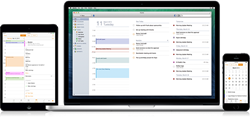 Toronto, ON (PRWEB) April 23, 2014
Daylite 5 has been refined to make viewing your information clearer and has been enhanced with features that help you make sense of your business, navigate through history, and get things done. The interface of Daylite 5 has been simplified with cleaner visuals that focus on your content. Refinements to the home screen, calendar, and activity view allow for easier scanning and better readability.
"With Daylite 5, we've strived to give you insight into your business. Both Insight View and Timeline offer innovative ways for you to instantly see critical information in a succinct and visually recognizable manner." said Alykhan Jetha, CEO of Marketcircle. "Furthermore, not only have we added a number of key features, but we've also done a lot of work to refine and remove anything unnecessary in order to bring your business content to the forefront on the iPhone, iPad and on the Mac."
Daylite for Mac
The Insight View is a new live visual summary of your contacts, opportunities, and projects that allows you to see and explore your data. Its charts offer a new way to look at and interact with your data as well as offer you insight and help answer questions about your business.
Timeline has been added to the activity view to enhance your ability to instantly review and assess your business relationships. You can quickly see the duration of the relationship as well as the amount of interaction over time. Additionally, you can jump to a point in time to find a specific email or appointment.
Other new features include repeating tasks, folders in the sidebar, editing contact information from within Mail, and advanced filtering options.
Daylite for iPhone and iPad
We redesigned Daylite for iOS 7 to make it easier for you to see your important information. When you're out of the office, you can see – at a glance – the appointments, tasks, and deadlines you have today and for the week.
Search has been added to the home screen to allow you to quickly find the business information you need when you're on-the-go. A contact name, phone number, or details about a sale can be found in seconds.
Syncing in the background has been added so everything is up-to-date the moment you open the app. The Daylite app icon will badge to let you know when there are new meeting invitations or notifications.
Pricing & Availability
To download Daylite or to learn more, visit http://www.marketcircle.com/daylite/ Pricing is available at http://www.marketcircle.com/daylite/pricing
About Daylite
Daylite is a CRM and productivity solution for the Mac, iPhone, and iPad. Daylite is built for small businesses that want a better way to organize and leverage their key information. It allows teams to share information, collaborate on projects, schedule meetings, delegate tasks, and track new business opportunities. Daylite is a native application that syncs between Macs, iPhones, and iPads and can be used by an individual or a team. A video about Daylite can be found at https://vimeo.com/92548915
About Marketcircle Inc.
Marketcircle Inc. is a privately held company in Toronto, Canada. Marketcircle helps small businesses grow by developing award-winning apps for the Mac, iPhone, and iPad. Additional information can be found at http://www.marketcircle.com/company/about.